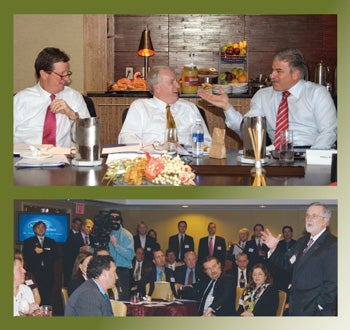 More than 100 URI alumni and friends joined two of today's most dynamic business leaders in New York City to celebrate spring and the University.
In a URI version of television's Deal or No Deal, two prominent alums, Tom Ryan '75, Hon. '99, president and CEO of CVS/Caremark, and Mike Fascitelli '78, president of Vornado Realty Trust, discussed the success and failure of their current mergers and acquisitions. Bob Beagle, vice president of University Advancement, moderated the lively discussion.
The alumni networking event, in support of the University's Making a Difference campaign, provided time and space for our impressive alumni to interact and make professional connections.
The campaign seeks $100 million to recruit and retain outstanding faculty, enhance the student-centered campus experience, provide undergraduate scholarships and graduate fellowships, and fund cutting-edge academic and research initiatives.
Guests got a sneak preview of the Making a Difference campaign video and including a chance to greet members of the Campaign Leadership Committee, who had met in the hotel earlier in the day.
"What a great way to make us feel proud of URI," exclaimed Doug Cote '82, managing partner of Schooner Investment Management, LLC, shortly after the event.
"It was superb from top to bottom," commented Alumni Association President Gary Kullberg '63.
"The speakers played off each other so well," said Gail Apkarian '78, president of Market View Research. "The way the discussion was presented made it easy for me to imagine what it would be like to assess the risks that are associated with mergers and acquisitions."
The event was so successful that the University is planning a Deal or No Deal, Part II and adding another dynamic panelist—Dick Harrington '73, who has capped his 10-year restructuring of Thomson Corp. with the $17.2 billion acquisition of Reuters. The event will be held on September 10, 2007, at the picturesque Seaport Hotel in Boston.