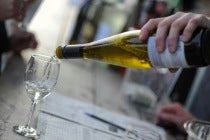 What could be more Rhode Island in the summer than a good, old-fashioned clambake? Don't think just about beer and cocktails to go with it. How about some wine?
Newport Vineyards Tasting Room Manager Craig Corsetti says you'd enjoy your clambake more with some great wine. He recommends these from Newport Vineyards:
In the Buff Chardonnay
Sauvignon Blanc
Great White
Rose Pinot Noir
Pinot Noir
Here's Craig's explanation for why these would work best: "The classic Rhode Island clambake, cookedover heated rocks and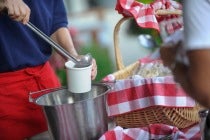 steaming seaweed creates a variety of flavors that beautifully compliment Newport Vineyards wines. The subtle sweet notes of lobster and sweet corn bring out the fruity and floral aromas and flavors in our In the Buff Chardonnay and Great White.
"The combination of brine and saline characters from the clambake's mussels and steamers compliment the grassy and herbal components of our Sauvignon Blanc. Lastly, the rocks are heated by a combination of hardwoods, so a smoky element underlies the entire meal, especially the potatoes and chorizo sausage. The smokiness works with more forward-flavored wines such as our Rose Pinot Noir and Pinot Noir. They marry well with a seafood meal that would normally conflict if cooked in a more traditional manner."