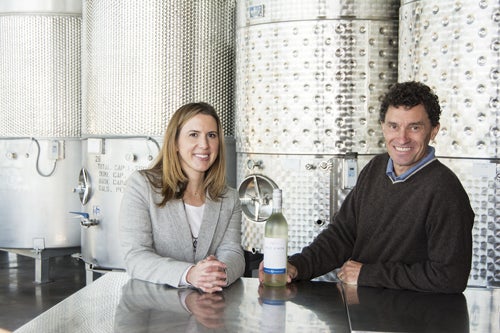 How one man returned to his family's roots and turned a small family winery into a Napa-worthy place to eat, drink, tour, learn, and make merry.
by John Pantalone
It took him awhile to get there, but 27 years after he started his senior project in marketing, John Nunes '88 is finishing it. Maybe not literally, but ideas he had back then have gradually come to fruition over a 20-year period in a much bigger way than he imagined.
As co-owner of Newport Vineyards with his younger brother Paul, John is overseeing the completion of a multi-million dollar expansion of their winemaking business, which sits majestically on his family's ancestral land in Middletown about 10 minutes from downtown Newport. The brothers have taken a once relatively small operation and turned it into a green tourism destination—not exactly what John had in mind back in the late 1980s, when he carved out a plan for the building on the property owned by his father.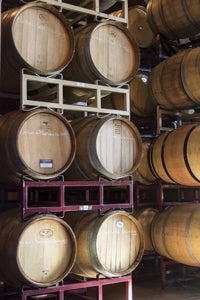 DIY Winemaking
Thinking you might like to try your hand at making your own wine? Here are some tips from Newport Vineyards Head Winemaker George Chelf:
Expand Your Palette: Part of the winemaking education process should include an effort to step out of your "wine comfort zone" even before you begin. Expose your palette to new experiences that will contribute to how you craft your own taste. Try new wines; you might be surprised.
Start With a Plan: Preparation is essential, but when you're working with Mother Nature, outside factors can never be fully predicted and she will always find a way to alter that plan. Be prepared, then take a breath and smile.
Take Notes: Record keeping is essential to becoming consistent, and it's how you evolve as a winemaker. Write everything down and refer to your notes frequently.
In Conclusion: Winemaking is a craft and a science combined. You cannot make a consistent product without both. Use all your senses.
In 1987, the elder John Nunes was looking for a new use for what was once the family's auto dealership. A retired Navy captain offered to lease the family's farmland and the building to start a winery. The younger John, who was completing his studies at URI, decided to make the building his senior marketing project. "I thought about what wasn't there," he said, "and laid out plans for a toy store, a restaurant, some other uses. I was thinking about something for everyone."
He wasn't thinking then that he would one day own a vineyard there. The farm and the structure had stayed in his family when John saw an opportunity in 1995. He convinced Paul to join him, and 20 years later, they have become the largest grower of wine grapes in New England.
"It was a beautiful place," John recalls as partial motivation for starting a business venture without much experience in the field. "It needed young energy. The first three or four years were hard. Everything just goes back into the business."
Little by little, working with winemaker George Chelf, who had been at the vineyard since John was a URI senior, the brothers learned about growing grapes and making wine, and they developed an admirable reputation in the process. When they started, with John handling the business and marketing and Paul overseeing the agricultural aspect, they were producing about 1,500 cases of wine. Now they're turning out 20,000 cases a year, in up to 30 varieties, including some that have won prestigious awards.
Their reputation has been about more than wine, extending to family history and preservation of agricultural land at a time when farms on Aquidneck Island were under great pressure from development. In 1998, in their first expansion, the brothers acquired the adjacent Perry Farm, which dates to the 1860s. They added it to their family's farm, which was started in 1917 by their great-grandfather, Azorean immigrant Francisco Nunes. The Perry Farm expansion represented a partnership with the Aquidneck Island Land Trust, the state Division of Agriculture and the Nunes family. The partners entered into an open space in perpetuity agreement for the farm, and four years later did the same for the family farm when John and Paul bought it from the estate of their grand aunt, Francisco's daughter-in-law.
"Perry Farm was about to be sold and there was a plan to build 80 house lots adjacent to our vineyard," John said. "We thought it was important to save the farm, but it was also a lifesaver for us. It gave us property facing East Main Road so people driving by would see us.
"We felt we were doing our part to preserve the agricultural personality of Middletown, which was once covered by farms. Farming was in my family for two generations. Francisco's sons all had farms."
Their return to agriculture reflects generational economic trends. John's grandfather, Joseph Nunes, had the first Chrysler auto dealership in Rhode Island, which he located off Broadway in Newport. John's father and uncle later moved the dealership to the site of John's senior project in Middletown. Now that building is surrounded by lush fields of grape vines and has become home to a modern form of tourism that combines agriculture and entertainment.
John and Paul have turned Newport Vineyards into a multi-use destination featuring vineyard tours and wine tastings, weekend music concerts, Shakespeare in the vineyard, tours of the expanded winemaking operation and more. Folks are planning weddings and rehearsal dinners there, business events, family gatherings, you name it. They began some of that about 10 years ago, but the newly expanded facility, which has added 12,000 square feet to the original 18,000-square-foot building, allows them to do much more.
In a beautifully planned renovation and addition, visitors can walk through a large tasting room and gift shop, then make a simple connection to a deli/bakery that has been part of the operation for years, but now has much larger and more modern facilities. Heading in the other direction, customers can walk through an enlarged tank room and production facility where events are held, including a weekend farmers market that moves outdoors in the summer months and offers a showcase for local growers.
For good measure, the brothers have jumped into the restaurant business as part of the renovation. Brix Restaurant, named for the unit of measurement of grape ripeness, opened last fall. Elegant and comfortable, it features a long bar and a large fireplace original to the property facing wine-colored leather sofas and chairs. The dining room offers carefully crafted dishes and marvelous views—of the vineyard in one direction, and the wine tank room in another. "We wanted to integrate everything," John said. "I think we've done that."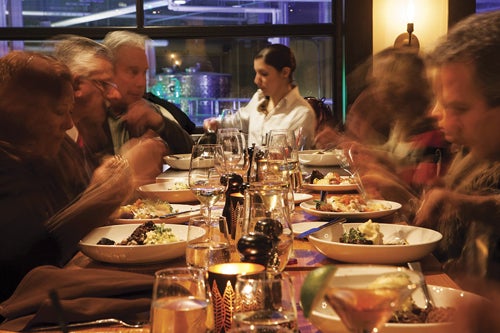 They've also connected the building to the vineyard with an extended outdoor patio where guests can listen to music on weekends or relax with a deli order or some wine.
Looking back, John is a little amazed at what they have accomplished, especially since they had almost no experience with wine. "We grew up behind the vineyard property," he said. "I have 52 cousins. A lot of us helped out with the planting when we were kids."
That was the extent of their knowledge. Paul, 25 when they took over the business, had traveled and taught English in Chile and spent time snowboarding in Switzerland. He had law school plans when John called on him. "I intended just to help out to get things started," Paul remembers. "Within six months I had taken over the farming operation. It was exciting. I was learning something every day. People in this business are willing to share their knowledge. It's refreshing."
John has a similar story. He had enjoyed a successful career with the international business consultants Dun & Bradstreet. It took him to a variety of places including Germany, where he earned a master's degree. "I met a lot of business owners small and large, and those experiences were valuable," he said. "I had always wanted to own my own business. I like the challenge and the independence of it."
So when Newport Vineyards became available and no one else seemed interested in buying it, John hooked Paul into it and teamed with George Chelf on an educational journey. John, Paul and George: They joke sometimes about trying to find a Ringo.
"We work well as a team," Paul said. "John does a good job predicting sales, which is essential. You have to know this before you make the wine. It's hard to predict. He handles the marketing. He is a great finance guy and has a good vision for systems and how to run things."
Chelf says the brothers had no preconception of how things should run, so they were willing to listen and learn. "It was scary not knowing everything we needed to know at the time," he said of the early years. "They had energy, and they reassured me that they wanted this to work. We all learned from other people in the business. Eventually things became sustainable, where we had control over our product from beginning to end."
Sustainability means not having to buy grapes elsewhere, which many wineries in the Northeast do. Things can still take them by surprise. The 2014 crop, for instance, was about 50 percent larger than average "and we didn't see it coming," says Paul. "There are variables every year, and you have to stay on top of it all the time."
Now they have more to keep on top of. They had 25 employees three years ago; they anticipate having 100 by mid-year. They aren't just operating a winery anymore. "Retail sales are important," John notes, "but you can only gross so much in Rhode Island and Massachusetts. The event business is lucrative if you have the space. That's why we did this."
John is proud that people who study vineyard operations and winemaking come to Newport Vineyards for seminars and other programs. Where once they relied heavily on experts to help them figure things out, their experience now makes them valuable mentors. "It's satisfying to think we have created something memorable," John said. "We know all the neighbors and we maintain walking trails behind the property. We are contributing to the community and the region."
Not exactly his senior project vision. It actually turned out much better. •