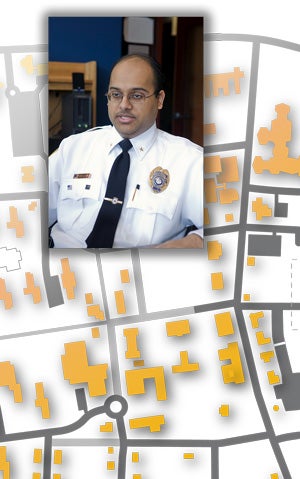 URI has been tapped by the U.S. Department of Homeland Security to develop a national training program for mass evacuation planning for institutions of higher education.

Cmdr. Shad Ahmed, chief of URI's Emergency Medical Services and director of the National Institute for Public Safety Research Training, is the principal investigator for the three-year, $1.9 million grant. Through the grant, the institute will research and develop a training curriculum targeting first responders to increase the survival rate in the event of critical campus incidents. The training program will introduce basic concepts in mass evacuation, disaster psychology, and the mechanics of pedestrian evacuation via Web-based and on-site delivery.
The Department of Homeland Security's Federal Emergency Management Agency grant is part of more than $27 million in funding awarded nationwide to develop and deliver innovative training programs addressing high-priority national security needs under the Competitive Training Grants Program. URI is one of just 11 institutions nationally to be chosen for this program, which is designed to be a catalyst for strengthening national preparedness initiatives for first responders, public officials, and citizens.
"There are very few venues for getting results from academic research incorporated into emergency responders' training, and nationally that has been lagging," Ahmed said. "We hope to facilitate this process so emergency responders are always one step ahead."