A new marine operations facility will have the capacity to support R/V Narragansett Dawn, which arrives in 2024. "Marine Ops" provides logistical support for seagoing expeditions, including administrative services and provisioning of food, scientific equipment and supplies. URI's Diving Safety and Research Program provides training to entry level, professional and scientific divers in tropical and temperate diving environments. Two new structures will house these functions, be closer to the pier and are designed to add about 11,000 square feet of space.
---
Marine Operations Building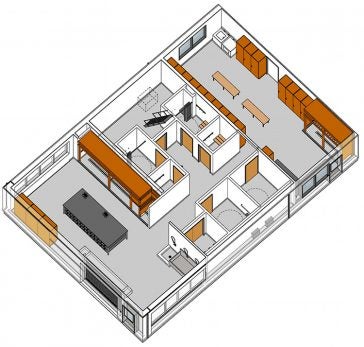 Both the main building and the annex will be single-story, pre-engineered buildings with mezzanines for mechanical equipment. The main building will occupy the current site of the Perkins Small Boat Facility. It will bring together most members of the Marine Operations Department—personnel such as managers, clerks and technicians—who currently reside in several buildings across campus, wherever space allows. New offices and meeting spaces will dramatically upgrade the ability of the department to operate and serve the new RCRV.
URI's Diving Safety & Research Program will also move into the Marine Operations Building. Establishing a state-of-the-art base of operations for divers represents arguably the most dramatic upgrade of existing conditions as this program relocates to new quarters from a small garage nearby. Components and amenities found in typical "Dive Lockers" today—e.g., a classroom, changing areas, storage racks and cabinets, specialized sinks and air compressors—are part of this new facility.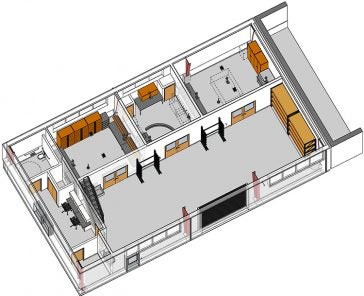 Annex to the Marine Logistics Building
Technicians in the "MLB-Annex" will prepare marine-science equipment for deployment and use at sea. Machine, wood and clean workshops, connected by a common staging area, are located here. To handle large, bulky ship's cargo, the staging area will be equipped with an overhead crane and be large enough for maneuvering forklifts and pallets. Storage on the mezzanine level (or attic) will be accessible by a ship's ladder.