From a young age, Catalina Martinez would study puddles on her street and wonder what was at the bottom of them. Now, as the Regional Program Manager for the National Oceanic and Atmospheric Administration (NOAA)'s Office of Ocean Exploration and Research (OER) with an office by Narragansett Bay at the University of Rhode Island's Graduate School of Oceanography (URI GSO), she gets to look at the bottom of the ocean with the same sense of wonder. However, her path from a childhood in Providence, RI to a career dedicated to the exploration of the world's oceans and being a key component in GSO's NOAA partnership was not straightforward and took much hard work.
A Commitment to Education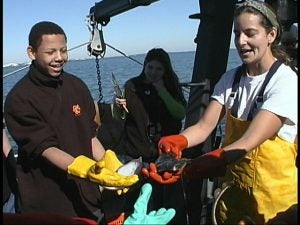 Life was not easy for a young Latina who dropped out of high school to go to work to support herself and help support her family. But she knew education was a key to expanding her opportunities. After she achieved her GED and Associates Degree from New England Institute of Technology, Catalina helped start the Urban Collaborative Accelerated Program (UCAP), school for at risk middle school youth in Providence, the beginning of a career-long commitment to serving as an advocate and mentor to others with similar backgrounds.
Catalina would go on to work in human services while working on her undergraduate degree. She took courses at various Rhode Island colleges, and eventually finished a Bachelor of Science degree in Zoology at URI.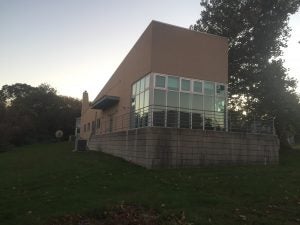 Over time, Catalina also completed three graduate degrees at the University of Rhode Island. The first two graduate degrees (Master of Science in Oceanography and Master of Marine Affairs) helped her win a prestigious Knauss Fellowship in 2002 to intern at her first-choice position, in the newly established NOAA Office of Ocean Exploration in Silver Spring, MD. Catalina was the only the second Knauss Fellow to work with that office. She did so well in that work, that she was hired for a full time NOAA position and in 2004 was sent to Narragansett to solidify the NOAA partnership with the University of Rhode Island's Graduate School of Oceanography, specifically working with Dr. Robert Ballard's team in a building on the edge of campus.
A New Partnership for Ocean Exploration
Dr. Ballard, who had worked with NOAA to initiate the Office of Ocean Exploration (now the Office for Ocean Exploration and Research, OER) had returned to GSO, his alma mater. This was a very exciting time because this NOAA program and Dr. Ballard's team were working together to develop a unique program in ocean exploration enabled by telepresence technology. This technology allows one to feel as though they are present where the cameras are in the deep ocean. In 2008, the Inner Space Center (ISC) opened in GSO's new building, the Ocean Science and Exploration Center.
This is the only facility of its kind in the US and uses cutting edge telepresence technology to both explore the world's oceans and broadcast that work live to centers of education and exploration around the globe and to the internet so that people anywhere, even landlocked areas, can see the ocean floor on their iPhone and computer screens.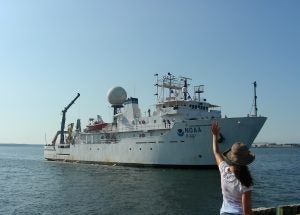 In her NOAA position, Catalina manages the partnership with the ISC that enables telepresence-based exploration cruises of the NOAA Ship Okeanos Explorer (EX) whose mission is to "serve science with telepresence." Commissioned in 2008, it is the first, and still the only federal vessel charged with exploring the world oceans and "providing data that will benefit NOAA, the scientific community, and the public." They work closely with Dr. Robert Ballard's Ocean Exploration Trust (OET) and their ship, the Exploration Vessel (E/V) Nautilus which also uses telepresence to engage people in ocean exploration. The two ships operate in complimentary ways, with the NOAA OER supporting several months of expeditions on the Nautilus each year. Both ships use satellites to communicate with GSO's Inner Space Center for their telepresence.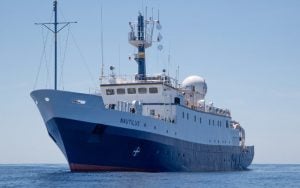 Although all research vessels gather scientific data, the difference with the mission of the NOAA OER is to have input from the scientific community regarding the goals of each cruise and also to make the resulting data publicly available and to use it for making informed decisions concerning the management of ocean resources. Right now, you can see for yourself what the Okeanos Explorer is doing because the ship is undertaking a mapping expedition in an area east of the Bahamas. And here are some images of recently seen organisms on recent expeditions.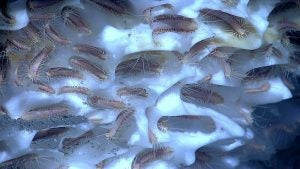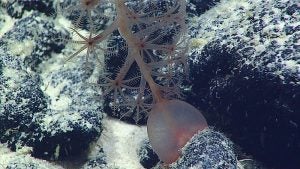 Broadening Diversity in Science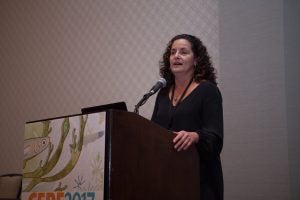 Not content to just concentrate on her career, Catalina earned a "Diversity Professional Certificate" through Diversity Training University International. This certificate formalized what she had been doing for years – giving talks about her own experience, leading workshops on the challenges underrepresented minorities face in STEM fields, and supporting others in various ways. "I get to help that next generation get to the point where they can then position themselves to be the wave of change that's going to happen, to really broaden diversity in the sciences. That, to me, is some of the most important work that I do."
And Catalina does all this with her trademark smile, dogged determination to overcome obstacles, and positive attitude.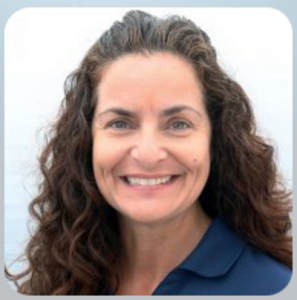 Adding Another Perspective
After working with the ship for about a dozen years, Catalina was granted a year's sabbatical to return to school to obtain her Master in Business Administration at URI. She returned to her NOAA position, a job that she loves, with "a very different perspective on how we operate in terms of business models and organizational cultures between the Federal government, academia, industry, and nonprofits."
Not one to ever take the easy path, Catalina has said "Going back to school after so many years out nearly killed me! But I'm really glad I did it. I learned a great deal just by being surrounded by a cohort of very young, mostly business students, and almost all male. A 'cohort' model of learning in teams is also unique in terms of my graduate school experiences, so that was a special opportunity to learn new subject matter in very new ways for me. It was really hard, but amazing, and the last step was an internship in Costa Rica – fabulous!"
Doing a Job She Loves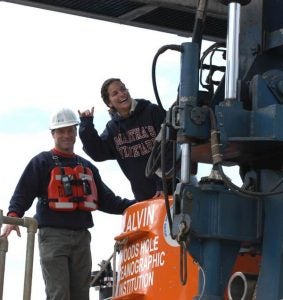 So it's not ALL hard work, her job has certain perks. Back in 2004 Catalina went in the deep submergence vehicle (DSV) Alvin (along with the pilot and another observer) down 2,480 m in the Gulf of Alaska to explore the Denson Seamount and see what was on the ocean floor. "The most fascinating thing I have ever done," she said. No longer did she have to wonder, she saw for herself the bottom of the global ocean "puddle."
Author's Note: While attending the conference Oceans 2018 in Charleston, SC on October 22-25, I had a chance to talk to one of this year's Knauss Fellows, Kate Szura. She is the first Knauss Fellow at NOAA's Big Data Project. She was inspired to work with that project by Catalina's Knauss Fellowship at NOAA's OER when OER was still relatively new. A recent example of Catalina helping to pave the way for others.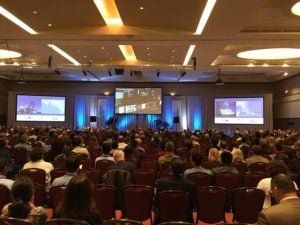 Also the October 23 Plenary Presentation at Oceans 2018 moderated by RDML Timothy Gallaudet featured a live simulcast with crew members from the Okeanos Explorer and the R/V Atlantis and footage from the DSV Alvin, demonstrating the use of telepresence with the conference attendees. Catalina was back in Narragansett, helping to set up the demonstration, always happy to share ocean exploration with others.
October 23, 2018 Volume 1, Number 7.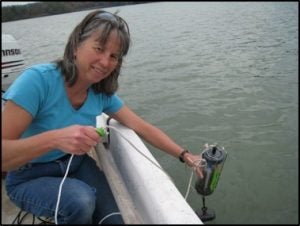 This blog post was written by Veronica M. Berounsky, GSO Science Correspondent and Coastal Ecologist. She first arrived at GSO in March of 1979 as a research lab tech. In 1990 she obtained her Ph.D., working on nitrification in Narragansett Bay with the late Scott W. Nixon. She continues to be fascinated by the ecology of coastal ecosystems every day. With this blog she hopes to increase your understanding of the activities and people of GSO and the Narragansett Bay Campus. Please email any comments to her at vmberounsky@uri.edu.
Click here to see all previous posts.
Subscribe to the Bay Campus (B)log here