Loose studying greenhouse gasses beneath sea ice in the New Arctic
October 3, 2022
Oceanography Professor Brice Loose (of Newport) and his family have headed to Norway this fall, where he'll use a Fulbright Award to study greenhouse gasses beneath the sea ice in the changing Arctic. Loose and his family will be in Bergen through August 2023.
Loose will work with experts at the universities of Bergen and Tromsø, global leaders in marine research, comparing approaches for analysis of air-sea gas exchange. Loose is studying the shrinking ice caps using state-of-the-art water sensors and satellite-based laser altimeters.
Loose aims to use satellite data from NASA's ICESat-2 satellite, coinciding with the MOSAiC Arctic drift program, which was a year-long expedition with 600 participants from 19 countries, which took place between September 2019 and October 2020, despite setbacks from the COVID-19 pandemic. As part of MOSAiC (Multidisciplinary drifting Observatory for the Study of Arctic Climate), Loose helped gather a year's worth of observations to help inform projections of Arctic Ocean function under climate change, funded by the National Science Foundation. Loose and fellow URI scientist Alessandra D'Angelo had previously journeyed to the Arctic in 2019 as part of the Northwest Passage Project, researching the release of ocean methane — a potent greenhouse gas — a topic of critical importance to our understanding of Earth's climate.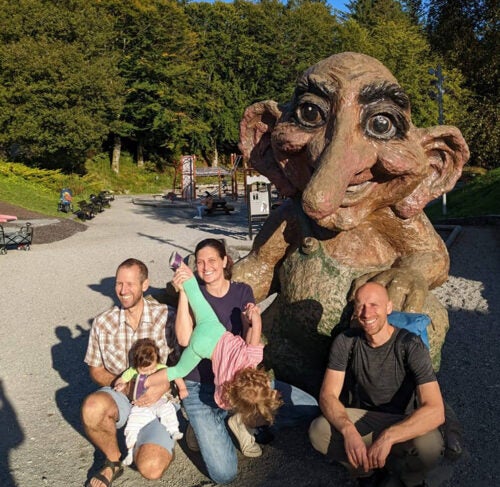 Loose researches the polar oceans using geochemical tracers — gasses dissolved in seawater — to study physical and biogeochemical processes. He has been studying how sea ice in the Arctic affects the accumulation, transformation and exchange of gasses like methane and carbon dioxide.
His work in the Arctic will form an important piece in global carbon accounting, as Loose and fellow scientists attempt to estimate and verify aspects of the carbon cycle, emissions reductions, and our eventual progress toward the goal of quantifying sources, sinks, and fluxes in monitoring the carbon cycle during the decarbonization of the global economy (0% net human greenhouse gas emissions).
"The ultimate goal is to do a better job of estimating how ice cover affects the exchange of carbon dioxide and methane between the ocean and the atmosphere," Loose said.
Loose is looking forward to exploring Arctic system science with his peers in Norway and says that the Nordic country has invested substantial resources into understanding how the Arctic works, from the atmosphere to fisheries to the smallest organisms in the ocean.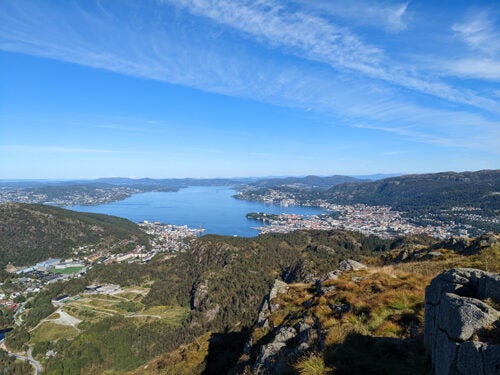 The Loose family headed to West Norway in late August. The Fulbright makes it possible for them to stay nearly a year; they are excited about the chance to experience Norwegian culture, try pickled herring, speak a Nordic language, and hike in the mountains. With a toddler and an infant, they are also looking forward to experiencing Norway's family-friendly culture.
"The country is known for putting children at the center of society," said Loose. "Coffee shops and bars have play areas. Even trains come with an entire train car with play equipment and padded walls, dedicated for play and letting out kid energy." Loose's wife Stephanie Anderson (GSO Ph.D. '21, now at MIT) also received a three-year Simons Foundation Fellowship which will enable her to work from Norway. She is working in the Darwin Project which focuses on modeling the marine ecosystem from inside a global model of ocean circulation. She'll be doing model experiments of organism evolution through a range of oceanic conditions.
This is Loose's first sabbatical and first time applying for a Fulbright, the U.S. government's flagship program of international educational and cultural exchange. "The fellowship does an amazing job of sending scholars from all different disciplines and career stages to destinations around the world, to exchange knowledge and enhance cultural awareness," he said.
Learn more about URI's Fulbright programs and scholars.