Central Falls schools and URI Graduate School of Oceanography team up to launch the Miniboat Inspiration
March 31, 2022
At just 5-feet long, the Miniboat Inspiration is a humble vessel. But the uncrewed boat, launched 100 miles off the coast of Rhode Island last Saturday under sunny skies and over rolling swells, has begun a journey that may span the Atlantic.
Since February, the URI Graduate School of Oceanography has teamed with students throughout the Central Falls School District to build the Inspiration, named after the city's slogan: Diversity That Inspires.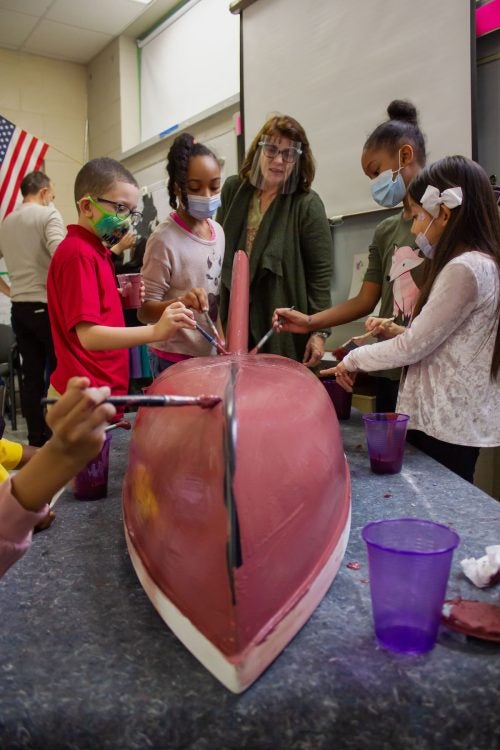 The Inspiration was built by third graders at two Central Falls elementary schools, Raíces Dual Language Academy and Veterans Memorial, using a kit from Educational Passages. GSO graduate students and staff taught the elementary school students how to ballast a keel and install a sail, and engaged them with a variety of ocean science lessons.
"I cannot put into words the joy on student's faces and the high-leverage learning students were engaged in," said Veterans Memorial principal Mark Price. "Fun, hands-on and rigorous."
Once the boat was assembled, a package of sensors to measure air and water temperature were built and installed by middle and high school students participating in an after-school program. While wind and ocean currents will determine where the miniboat goes, the sensors and GPS units used to track the boat and share its data are powered by a battery charged by two small solar panels. A hatch on the miniboat is filled with surprises that represent the students and the Central Falls community, to be shared with new friends who recover the Inspiration when it lands on distant shores.
"Depending on the path the Inspiration takes, the Central Falls students may be able to connect with the local community where it lands," said Andrea Gingras, assistant director of GSO Public Engagement. "It's a great opportunity for cultural exchange."
Numerous other miniboats managed by Educational Passages are currently sailing throughout the Atlantic and Pacific oceans, some for over a year. In one recent example, a miniboat launched by a Rye, N.H. middle school in 2020 was discovered on the coast of Norway, providing one final location report after four months of going silent. "The program started over a decade ago to help students learn about the ocean and how we're all connected to it," said Cassie Stymiest, executive director of Educational Passages. "Miniboat Inspiration is one example of how we are accomplishing just that. We send a boat out to sea with students' messages, hopes and dreams, and together we see what happens."
On board the R/V Endeavor and far offshore was Veterans Memorial third grade teacher Kim Alix, who joined the research cruise to assist in launching the Inspiration. Her students tuned in to a live broadcast to see their teacher on the vessel.
"After so much distance learning my students were thrilled to have a chance to be part of such a unique project," said Alix. "What a great way to get the kids excited and gain a deeper understanding of how the ocean works. We can't wait to track where the Inspiration goes next."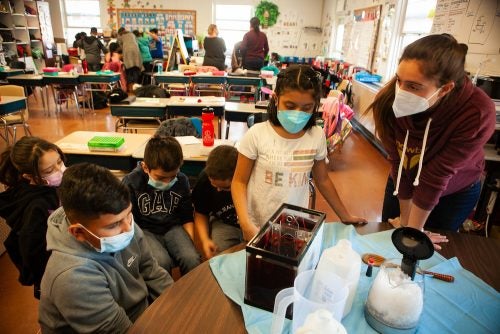 The Inspiration is, in fact, the second miniboat built and launched by Central Falls students. In summer 2021, GSO partnered with the Central Falls School District Expanded Learning Community and Educational Passages to build the Miniboat Square Mile, named to celebrate the city's diminutive size. The boat, launched from R/V Endeavor on October 2, 2021, has been traversing the Atlantic ever since and can be tracked in real time.
"I love the Miniboat Program because the students and teachers created Square Mile and Inspiration to connect their culture with others across the sea, while also collecting valuable data about our ocean and atmosphere," said GSO Dean Paula Bontempi. "The program is a powerful way to engage students who have been underrepresented in science. It's been our honor to work with the creative and curious students in Central Falls as they learn about oceanography, engineering and marine trades, all of which are essential skills for the growing blue economy in Rhode Island and beyond."
The GSO Miniboat Program is generously supported by the Devereux Ocean Foundation.