National Science Foundation recognizes ocean robotics researcher Mingxi Zhou for early-career work
May 23, 2023
Mingxi Zhou, assistant professor of oceanography at the University of Rhode Island, has received a National Science Foundation CAREER grant. As an ocean robotics researcher at URI's Graduate School of Oceanography, Zhou develops robotics technology for iceberg studies and has focused his work on the Arctic. Zhou's five-year, $600,000 grant began this month and will bolster his work on making robots operate underwater in more comprehensive and connected ways.
Zhou plans to use the funds to boost the underwater capability of underwater robots, letting them live and function underwater for longer periods of time for expanded ocean sensing and easier integration with ocean observing systems. Underwater resident robots can also monitor structural health and water, offshore energy and aquaculture production, and address challenges of climate change and food security.
The project will also introduce up to 20 high school students to underwater robot building in summer workshops and allow up to 10 undergraduate students to conduct original research in ocean robotics.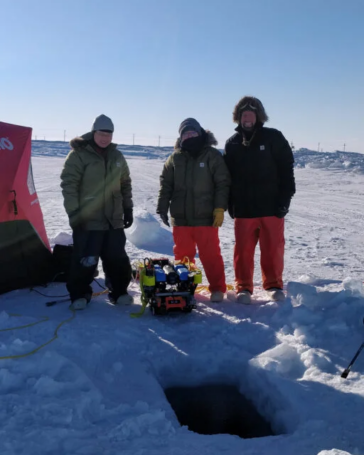 The NSF's CAREER award comes from the agency's Faculty Early Career Development Program, supporting early-career faculty who demonstrate potential to serve as role models in research and education and to advance the missions of their institutions. The program is one of the National Science Foundation's most prestigious awards in support of early-career faculty.
Selection for the award is based on innovative research in a competitive process.
Icebergs in sight
Zhou was new to underwater vehicles when he arrived in St. John's, Newfoundland, Canada for graduate studies at Memorial University, having studied and worked as an engineer in China. He was amazed to see all the different underwater vehicles and gliders in the lab there. Since he likes working on complicated systems and real-world problems, the field was an immediate draw for him. "An underwater vehicle is essentially a complex mechatronics system," Zhou says.
Doing graduate work in Newfoundland, Zhou expanded his research into iceberg profiling, a subject that is essential to the history and culture of the seaside province dating from 1912, when the Titanic hit an iceberg just 300 miles off its coast. Even today, the air division of the International Ice Patrol, founded in the wake of the disaster, continues to fly out of Newfoundland.
As the easternmost city in North America, St. John's was the perfect place for Zhou to study these icy giants of the sea, floating south from Greenland and the Canadian Arctic. Zhou quickly became involved in iceberg mapping, particularly using autonomous marine vehicles to map and track icebergs. Zhou used his engineering skills to take his study of icebergs to new depths, going underwater and using autonomous underwater vehicles and autonomous surface vehicles to track their movements.
As Zhou mastered the systems and technology, his work gained recognition — and funding. His first grant was from the NSF's Office of Polar Programs, recognizing his development of under-ice algorithms to operate unmanned underwater vehicles.
Zhou currently holds a number of active awards in the foundation's Robotics Program. He'll use his newest award for CAREER to improve the reliability of underwater docking that is essential for underwater robots to monitor the regions of interest, e.g., Arctic, offshore wind farms, and Rhode Island waters.
Zhou joins three previous CAREER awardees at URI, all doing exciting research on different oceanographic topics. Roxanne Beinart received a CAREER award last year and prior to that, Melissa Omand (2021) and Meng "Matt" Wei (2017).
Rhody robots
After finishing his Ph.D. at Memorial University of Newfoundland, Zhou interviewed at URI. Visiting the Narragansett Bay Campus and seeing GSO's master plan layout sealed the deal for Zhou, as he was considering the next steps in his own ocean journey. Seeing URI's investment in technology and the number of faculty working in ocean robotics at GSO and Ocean Engineering, drew him to Rhode Island and he joined the faculty in 2018.
At URI, Zhou is busy with under-ice navigation projects and under-ice deployments, and has also added Michigan and Alaska to his research sites.
Zhou's CAREER award includes an education component and will let him establish several interactive activities, including undergraduate capstone projects, high school summer workshops, class projects and robot demonstrations.
Zhou is happy to share his work with future young scientists. His Smart Ocean Systems laboratory was a featured exhibit at last fall's Science Saturday at GSO, showcasing its robots for more than 2,000 family visitors. "We were excited to talk about our research and encourage the younger generations to pursue advanced education in marine robotics majors," he says.