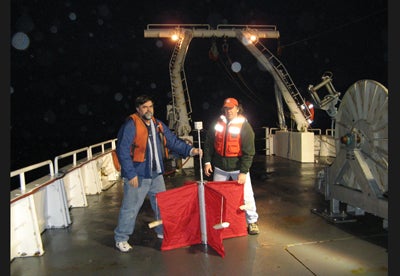 The University of Rhode Island research vessel Endeavor will depart Thursday morning from Narragansett for a short expedition to Georges Bank to study ocean currents, test a new marine instrument and give local teachers the experience of a lifetime.
The 185-foot ship, owned by the National Science Foundation and managed by URI, will be at sea for five days, returning on May 23. GSO scientists will work alongside four Rhode Island teachers participating in the Rhode Island Teacher-at-Sea program.
The ship is equipped with telepresence technology so the teachers will be able to communicate via satellite with students in their classrooms. If they're lucky, the students will see their teachers towing plankton nets, collecting water samples and conducting experiments in the "wet lab.''
GSO scientists will also be on the expedition. H. Thomas Rossby, an award-winning professor of oceanography, will test acoustic fishtag technology developed in Professor Godi Fischer's Lab in URI's electrical engineering department. The heart of the tag is a micro-chip receiver that enables researchers to use long-range underwater acoustic transmissions to track the movements of fish during long periods. The tiny receivers record the arrival times of acoustic transmissions from an acoustic navigation system known as RAFOS. When the fish are trawled—weeks, months or years after being released with the tag—researchers can reconstruct the movements of the fish, how deep they swim and the temperatures they encounter. The technology was developed more than three decades ago at GSO.
Also, Noah Walcutt, a GSO graduate student who works with Melissa Omand, an assistant professor of oceanography, will try out a holographic camera that takes photos of phytoplankton and zooplankton.
And Christopher Kincaid, a professor of oceanography, hopes to study the connection of ocean currents between Georges Bank and Rhode Island's coastal waters, Narragansett Bay and Rhode Island Sound.
His research has focused mostly on using data and computer models to understand circulation and flushing in Rhode Island's coastal systems, specifically how water and key biological and chemical materials are exchanged between the Bay and the inner shelf of Rhode Island Sound. Now, he is setting his sights on a larger prize, defining the source currents that supply water, and everything that moves in that water, to Rhode Island's patch of coastal ocean.
By revealing how marine plants and animals are carried into Rhode Island waters, the study will help coastal policymakers maintain a healthy ecosystem.
"We've identified the dominant entering pathway for water moving from Rhode Island Sound into the Bay, and how water moves in a counterclockwise current through the Sound,'' he says. "But we don't have a very good idea about where the water coming to Rhode Island originates. We'll deploy passive floating devices in the water that drift with the ocean currents, mapping out how water travels near Georges Bank to Rhode Island Sound and, potentially, into Narragansett Bay.''
Kincaid and colleagues Scott Rutherford, an associate professor of environmental science at Roger Williams University, and James Manning, a researcher at the Northeast Fisheries Science Center in Woods Hole, Mass., will place 13 low-cost ocean current tracking devices, called floats or drifters, in the waters south of Nantucket. The devices have sails that sit at 1, 3 or 6 meters below the sea surface, catching the current and causing the drifter to essentially "go with the flow." A GPS-satellite tracker moves with each drifter, communicating its location every hour for as long as the batteries last.
Students of the teachers on the expedition will track the drifters—funded by Rhode Island Sea Grant—for one or two months after the cruise ends on a website set up by the company providing the GPS tracker. The public can also follow the progress of the 13 drifters during their journeys through the waters off southern New England.
What's a possible route? A drifter might make it to the inbound lane for Narragansett Bay, then go around Brenton Reef, passing Newport Harbor and Rose Island. Then, the device might go under the Pell Bridge and northward to the fork in the path at Hog Island, where it could take a right into Mount Hope Bay or continue toward the Providence River and the city beyond.
"When we use these floats with our URI classes, students really get caught up in tracking their progress,'' Kincaid says. "It's our hope that an even wider cross-section of Rhode Islanders will follow these 13 travelers and see in real time what they have to teach us.''
The Rhode Island Teacher-at-Sea program was started more than a decade ago as part of the Rhode Island Endeavor Program, a state-funded effort to provide URI researchers and local educators with access to the scientific research and educational opportunities of an ocean-going research vessel.
Since its christening in 1976, the Endeavor has embarked on more than 500 scientific cruises, here and far away, off Block Island as well as the Galapagos Islands in the equatorial Pacific Ocean.
Pictured above: On left, Jim Fontaine, of Exeter, and Christopher Kincaid, a professor at GSO, prepare to deploy a drifter floating device off the Endeavor.
Photos courtesy of Christopher Kincaid.
Media Contact: Elizabeth Rau, 401-874-4894