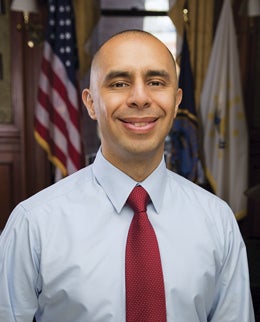 He made a difference as a housing court judge. But the city of Providence will be a much, much tougher test of Jorge Elorza '98's abilities to wrangle, reckon, adjudicate, and imagine.
By Melanie Coon
How did the son of Guatemalan immigrants, who barely graduated from high school and was rejected from the University of Rhode Island's Talent Development Program, go on to become mayor of the state's capital city? The story of Jorge Elorza is an inspiring example of what is possible when barriers spur motivation. And if Mayor Elorza has his way, many more kids will dream big.
It is less than a two-mile walk as the crow flies from Asa Messer Elementary School to City Hall in Providence, R.I. But when Mayor Jorge Elorza attended Asa Messer as a child growing up on Cranston Street in the urban core, City Hall seemed as far away as the moon.
The mayor, who was sworn in on January 5, grew up in poverty and, while he was an exceptional math student with clear potential to do well, he wasn't too interested in applying himself. "I went for my Talent Development interview with Leo DiMaio in my senior year at Classical, fully expecting to be accepted to URI," Elorza recalls. "But Leo could see I was immature and not ready for TDP. The rejection letter arrived the very next day. It was a turning point in my life. I decided I had to get my act together."
And get it together he did. Elorza tried hard at the Community College of Rhode Island, demonstrating that he was serious about his education. And then he made the leap to URI. He credits DiMaio, Frank and Sharon Forleo, and former Dean of the College of Business Administration Mark Higgins with giving him a tremendous amount of support and encouragement. An accounting major, Elorza graduated at the top of his class.
Academic achievement notwithstanding, many of his memories are focused on the good times he had with friends. "I was on the flag football team," he says. "And I played a whole lot of pool in Heathman." Elorza counts URI classmates, including many he tutored in math, among his lifelong friends: "I've been to their weddings, I am an uncle to their kids." Community service was also a strong thread pulling through his undergraduate years. He spent weekend time mentoring kids through the College Crusade, and served as president of the Latino American Student Association.
Despite successfully landing a position at PriceWaterhouseCoopers in New York, seemingly achieving the pinnacle of the American Dream, Elorza felt unfulfilled in his work. And then came a phone call from his father that reawakened his drive to serve the community where he grew up. One of his best friends had been murdered.
Returning to Providence, Elorza expected to become a high school teacher or to lead a youth-building program. He worked for a time at Outward Bound.
"I never saw myself as a lawyer. But when someone explained public interest law, I was hooked." After graduating from Harvard in 2003, Elorza could have gone anywhere, but he returned to his hometown and took a position with Rhode Island Legal Services, litigating race discrimination cases and representing both private and public housing tenants. He was appointed to the Providence Housing Court in 2009 and quickly earned a reputation for taking a tough stance with landlords—including major banks—on abandoned properties. And he continued to teach law students at Roger Williams University, where he founded the Latino Policy Institute, which is focused on providing data-driven analyses of issues relating to Latinos, the fastest growing population in Rhode Island.
Still, Elorza wanted to do more to make a difference. He leapt at the opportunity to run for mayor, citing his passion for making Providence a wonderful place to live, with superb schools, safe streets, and a thriving economy. Elorza also notes how much he enjoys a good challenge. "I always push myself. Once I get to the point where I have achieved an objective, I set my mind on the next one."
When he was elected last November, Elorza said, "We have it within ourselves to change the course in Providence, and to create opportunities. I am thrilled to be in a position where I can help the city and make this a better society for all of us."
We caught up with the mayor again in March after a string of brutal winter storms that did nothing to dampen his optimism. He told us that wherever he goes, people are eager to help: "Out in the community, people who did and did not support me say, 'Let me know how I can be helpful.' That is very heartening. Even city employees who have been in their jobs for 25 years or more tell me they have never seen this kind of momentum for positive change."
In fact, despite the difficulties of keeping the streets plowed and repairing the inevitable potholes that follow the snow, Elorza says his biggest challenge so far has been managing his family's expectations. "They are used to seeing me a lot more than they do now," he explains. "I made a commitment to the city and to the position, so that is a new reality for them to adjust to."
The mayor is especially pumped about creating a new position: chief innovation officer. Calling it "an approach, a philosophy, and attitude," Elorza says that regardless of how well we may be doing our jobs, we can always improve, innovate, and do better. "That is the culture I want to inculcate into every aspect of the city," he says. That includes high hopes for the lean management principles that Chief Innovation Officer Nicole Pollock will bring to City Hall; he cites early victories like coordinated responses to constituent concerns. The department of public works and the office of neighborhood services are now well aligned. "A small change but it will have a major impact," says Elorza.
Of course, there is no shortage of issues to tackle on a daily basis. Schools, innovation, recreation, economic development, boards and commissions—what keeps him up at night? With jam-packed days, he says, "I hit the bed and I fall asleep."
Elorza is open about the issue he feels is central to the city's future success: "I want to be remembered as the mayor who turned around the schools." He's been emphatic about the need for a school department that works, with strong leadership that empowers teachers, principals, and teacher leaders with support from the central administration. "Providence can be a shining example of what an urban school district should be," he says. "With the right attention and focus we can make sure that in every single school and classroom our children are inspired to learn." He's visiting two per week, meeting with Superintendent Sue Lusi regularly, and engaging members of the community around this issue. "What is stopping us from being a world class school system is not a shortage of great ideas," he explains. "It is the ability to execute the ideas." One idea already being implemented: full service schools that double as community centers and stay open into the evening. Four schools are currently piloting this model.
Another issue that remains front and center for Elorza is safe and decent housing. He has launched an aggressive initiative for Providence to become the first city in the nation with no abandoned properties, and he is drawing on his experience as a housing court judge to make it happen. "I find it unacceptable that properties have been vacant for six to eight years," he says. "We can do better."
It is no secret that Rhode Island has not recovered from the Great Recession as quickly as its neighbors in New England. Elorza speaks about creating a "city of opportunity," beginning with public education that prepares students for skills they need in the new economy through internships, apprenticeships, and mentorships. For the city to work, he says, "Everyone has to be a part of the growth."
Finishing off a sandwich ("I have to keep up my strength") and preparing to head into another meeting, Elorza reflects on opportunity more personally. If he were giving advice to students just starting out in Talent Development, he says, he would want them to know that: "Success is about experience and experience is often about failure. You learn from your mistakes and that sets you up for success in the future. Always push yourself outside of your comfort zone and become a well-rounded human being, expose yourself to a broad range of experiences. We limit ourselves by being afraid to fail." •