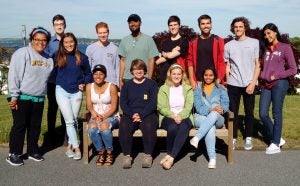 Important Dates
Application Deadline. To receive full consideration for the SURFO program, all application materials should be received by 6 February 2023. We may continue to process and review application materials received after the deadline, but your best chance of being accepted into the program is to apply early.
Acceptance Notification. Most applicants are notified of their acceptance into the program by April 1st. Final official notification of acceptance or rejection will occur by 15 April.
Program Dates. The SURFO program has a 10-week duration that begins the first full week of June and finishes at the end of the second week in August. In some special circumstances, some degree of flexibility may be allowed for the start and end dates, i.e. for students on the quarter system, up to week, as long as the 10-week program is completed between June 1 and August 31.
Student Stipend
Students receive a stipend of $6,000 for the 10-week program. Additional funds are provided for housing. Partial to full reimbursement for travel is provided within State and Federal guidelines.
Housing
Housing is available for the participants in rental houses within ~2 miles of the Narragansett Bay Campus (GSO). Students will have their own bedroom and share cooking facilities and other amenities with typically 3 other SURFOs. Students are welcome to seek alternate housing options at their own expense, but most participants feel the housing we offer is preferred to dorm rooms on main campus six miles away or other options.
Travel
Travel to GSO. The Graduate School of Oceanography is easily accessible via plane, train, and automobile.
By plane – T. F. Green Airport (PVD) in Providence (actually Warwick) is located about 30 minutes from the Bay Campus by car.
By train – The Kingston, RI station (KIN) for AMTRAK is located only 15 minutes from the Bay Campus by car.
By automobile – Interstate 95 runs right through the middle of Rhode Island and the Bay Campus is a quick 20-30 minutes east of the interstate.
Travel while at GSO. The Graduate School of Oceanography is located in a residential setting. Therefore, most travel in the region is accomplished by automobile or bicycle. The program can lend bicycles for the summer.
Rhode Island Public Transportation Authority (RIPTA) buses serve the Narragansett Bay Campus vicinity. Currently, Route 64 buses stop on campus and a Route 14 bus stop is ¾ mi. away. RIPTA statewide maps and schedules are available at at https://www.ripta.com/schedules/. Ride sharing services such as Lyft and Uber are available. Zipcars are available at URI's main campus (https://www.zipcar.com/universities/the-university-of-rhode-island) and in Newport.
Travel to/from the Bay Campus from/to the SURFO houses is easily done by walking, biking, or driving (free parking). Although not necessary, a car does facilitate activities and major grocery shopping.