Paula Bontempi Ph.D. '01, Graduate School of Oceanography, dean of GSO since August 2020
June 5, 2023
Paula Bontempi, dean of the University of Rhode Island's Graduate School of Oceanography, posed her own question Wednesday afternoon before a panel established last fall by NASA: Why should the space agency be heading an effort to research unidentified anomalous phenomena?
Bontempi was one of 16 members of NASA's Unidentified Anomalous Phenomena Independent Study team gathered for a day-long public meeting in Washington, D.C., as part of its eight months of work. Bontempi, a 2001 GSO graduate, has worked with the team since October. She was part of the team's first public discussion, Wednesday, May 31, and a follow-up media teleconference. Several members of the team said that the preponderance of reported phenomena are aerial in nature, and that a full report from the team will be released to the public during the summer.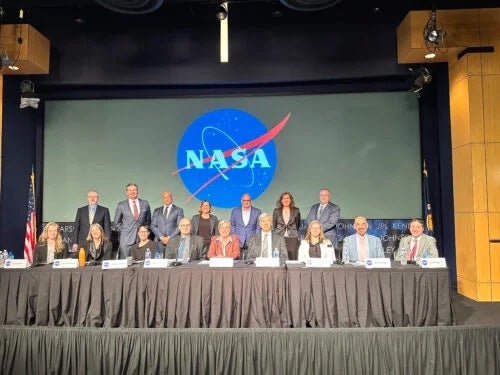 In general terms, Bontempi said NASA has the scientific and engineering expertise, the ability to bring groups together, including international partners, and the public trust necessary for such a project.
A biological oceanographer for 25 years, Bontempi started as GSO dean in August 2020 after a distinguished career at NASA. She spent 18 years at NASA and was appointed acting director of the agency's Earth Science Division for the Science Mission Directorate. She also led NASA's research on ocean biology, biogeochemistry, the carbon cycle and ecosystems, as well as many NASA Earth observing satellite missions.
"Why NASA," she said from the podium shortly after lunch. "NASA is primarily a science-driven agency. It's committed to exploring air and space, and this includes the unknown, whether that's the farthest reaches of the universe or here on our home planet. In that light, NASA has over 60 years of experience measuring phenomena in air and space."
She said NASA conducts such research using the unique vantage point of space.
"NASA's mission, data and technical expertise in science and engineering may also help investigate and understand any of the reported phenomena," Bontempi said. "There is a tremendous archive of NASA data, from satellites and ground-based resources, as well as other assets, and these are freely accessible and open to the public. Discovery and results are also publicly available.
"NASA also has a long-standing public trust," she said. "This is essential to communicate those findings to the public, and very important in efforts to destigmatize the reporting and raise awareness of cultural and social barriers to doing so. NASA has a unique strength in leveraging public-private partnerships that could result in new technologies that may be useful in observing and understanding reported phenomena," adding that such partners could include agencies such as the Federal Aviation Administration and the National Oceanic and Atmospheric Administration.
She noted that NASA has a strong record of international collaboration, "which could be beneficial to the study of any of these phenomena, as that may require global cooperation and data sharing.
"One thing that really strikes me is that new understanding of anomalous events really comes from when we bring communities together, interdisciplinary science communities that would not necessarily collaborate."
NASA said in a media advisory issued May 12 that the team will publish its report this summer. Wednesday's meeting focused on the process of categorizing and evaluating data of unidentified anomalous phenomena. NASA defines such phenomena as observations of events in the sky that cannot be identified as aircraft or known natural phenomena from a scientific perspective. The focus of the public meeting was to hold final deliberations before the agency's independent study report is issued.
Along with a Ph.D. from URI, Bontempi holds a master's degree in oceanography from Texas A&M, and a bachelor's degree in biology from Boston College.