Welcome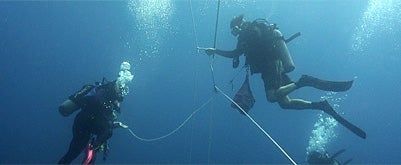 If you have questions about advising, contact your advisor or contact us at: urimbio@etal.uri.edu
To make a donation to the Stan Cobb Marine Biology Endowment, which supports undergraduate research, in honor of the 25th Anniversary of the Marine Biology Program, click here.
The Marine Biology Program involves over 200 students in the B.S. Marine Biology degree program, which is administered by the Department of Biological Sciences. Most of our students are from out-of-state – from 15 states (including Florida, Texas, California, and Hawaii) each year, and from around the world (Germany, Phillipines, India, Netherlands, Mexico, China in the past several years; see freshman class profiles). The curriculum for the BS in Marine Biology is designed for students who plan to work in marine biology, marine ecology, biological oceanography, marine conservation, marine education, or related fields at a professional level, and those who wish to apply their training to a wide range of other exciting careers. The program allows students to explore the vast world of marine biology while providing an important foundation in modern biological sciences, chemistry, math, physics, and oceanography. More than 10 new faculty have been hired in Marine Biology (in CELS) or Biological Oceanography (in GSO) in the past several years providing students with enhanced opportunities to take a wide diversity of courses and to do research in many cutting-edge areas of marine biology and biological oceanography. We encourage an interdisciplinary approach that could include study in other marine-related areas, such as Aquaculture and Fisheries, Geology and Geological Oceanography, Marine Affairs, Marine Environmental Economics, Marine Archaeology, History and Literature, Ocean Engineering, and/or involvement in URI's Honors Program. Students majoring in marine biology may also choose to complete a minor or double major in one of these areas (or others), depending on their interests. Other students with an interest in Marine Biology may pursue a BS in Biological Sciences or a BA in Biology (with appropriate marine-related courses), or may complete a Minor in Marine Biology.
NEW! – URI Marine Biology featured in TheCollegeTour.com
Congratulations & Announcements
EIGHT (!) URI Sophomores (our largest cohort), all CELS students, including 7 Marine Biology majors have been awarded the 2022 NOAA Hollings Scholarship. They are: Matthew Brander (MBio and Aquaculture and Fisheries Science), Taya Clements (MBio), Kara James (MBio), Ellie Madigan (MBio and WCB), Zoe Scipioni (MBio and WCB), Maricarmen Serna (MBio and ENRE), Alexandra Sinno (marine biology),and Molly Halla (GEO/GEO OCE). At least one student has received the Hollings Scholarship each year for the past 14 years.
Congratulations to Myles Wagner (MBio and CMB), recipient of the 2022 Academic Excellence Award in Marine Biology.
Dario Castillo (MBio Class of 2022) – was awarded a position as one of the first four National Geographic STEM Field Assistants to work with Dr. Bradley Wetherbee. The NatGeo program aims to provide support to students from under-represented groups interested in earning advanced degrees in the STEM disciplines. Click here for a recent article about Dario.
Callie Veelenturf (MBio Class of 2014) gave the first Annual Stan Cobb Marine Biology Lecture entitled "Saving the Planet: One Sea Turtle at a Time". More than 80 alumni, faculty, staff and friends attended in person or virtually. Callie demonstrated how undergraduate research coupled with passion, persistence and a positive attitude can evolve into a career that reaches across borders to make a significant difference in marine conservation. For information about Callie's non-profit organization, The Leatherback Project, click HERE
Sarah O'Sullivan (MBio Class of 2021) was featured in TheCollegeTour!!
Congratulations to Bethany Deloof (MBio Class of 2021; double major in Writing and Rhetoric) winner of this year's University of Rhode Island Writing Award for Science (undergraduate category).
Congratulations to Allison Gallagher (MBio Class of 2021) who was the winner of the Academic Excellence Award in Marine Biology.
SIX (!) MBio alums are currently working in Woods Hole!  Sara Shapiro (MBio Class of 2019) and Dave Bailey (MBio Class of 2008) are working at the Woods Hole Oceanographic Institution (WHOI). Ana McMenamin (MBio Class of 2020), Anna Byczynski (MBio Class of 2020), Danielle Jordan (MBio Class of 2020), Emily Greenhalgh (MBio Class of 2008) are all working at Marine Biological Laboratory (MBL).
Congratulations to URI's FOUR new NOAA Hollings Scholarship recipients – Rosie Bailey (MBio class of 2023), Emily Drappeau (MBio class of 2023), Eliza Taylor (OCE class of 2023), Sebastian Murray-Brown (MAF/ENRE Class of 2023). This is our second largest cohort of Hollings recipients. A total of 33 URI students have been awarded this prestigious, nationally competitive scholarship, with 1 – 6 awards made to URI students in each of the past 13 years.
Congratulations to Gabby Pantoni (MBio Class of 2020) who 

won the President's award for best undergrad presentation at the 2021 Northeast Algal Society (

@NEAS_algae) conference.
Myles Wagner (MBio class of 2022) has been awarded a prestigious, nationally competitive Goldwater Scholarship. He was also a recipient of the NOAA Hollings Scholarship in 2020.
For older news, see the Kudos and Congratulations page.
Photo Credits throughout the Marine Biology website: Drs. Jacqueline Webb, Brad Seibel, Carol Thornber, Ms. Jillian Hesse (Class of '07),  Ms. Sara MacSorley (Class of '08),  Ms. Emily Field (Class of '09)