Improving Small Ruminant Parasite Control in New England
USDA Northeast Sustainable Agriculture Research and Education Program (LNE10-300), May 2010 – October 2014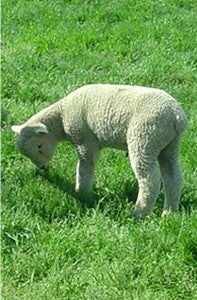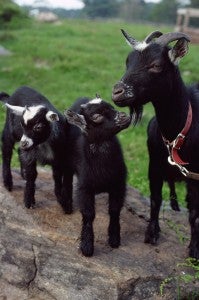 Introduction
Print version –  SARE_Flyer_2014doc
Gastrointestinal nematode (GIN) parasites, such as the barber pole worm (Haemonchus contortus), are a serious problem, affecting small ruminant production throughout New England and the world. These parasites cause poor growth, anemia, and death in severe infections and limit the ability of producers to raise sheep and goats on pasture.
Growing and widespread resistance to chemical dewormer drugs, coupled with producer wishes to reduce or eliminate reliance on these drugs, has created a need for alternative and integrated parasite control practices.
Visit our new Northeast SARE Project – New Approaches for Improving Integrated Parasite Control Strategies for Small Ruminants in the Northeast (LNE15-342); September 2015 – December 2018.
Project goal
The goal of this project is to improve the parasite control practices of farmers in New England.  Direct participation in workshops and hands-on reinforcement of Best Management Practices during on-farm visits have encouraged farmers to adopt several of the following practices: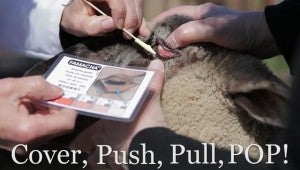 ♦Use the FAMACHA© system, body condition scoring and fecal egg counts for detection and selective deworming of infected animals.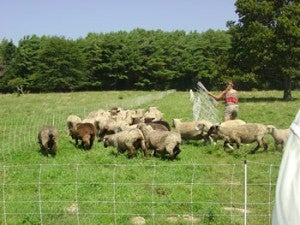 ♦Implement alternative parasite control practices such as mixed species grazing and pasture rotation.
♦Factor parasite susceptibility of individual animals into farm breeding programs (increase percentage of parasite resistant animals, increase productivity).
Research has been investigating the anti-parasitic (anthelmintic) potential of the condensed tannins in cranberries and the effect of vitamin E supplementation on the host response to parasite infection.
Project Methods (May 2010 – October 2014)

The project included a variety of hands-on educational opportunities for small ruminant producers in New England:
Integrated Parasite Control/FAMACHA Training Workshops and Videos
Comprehensive parasite control survey
Farm visits

Evaluate the flock / herd for parasite infection
Determine the level of anthelmintic resistance on the farm
Parasite identification
Click here for a detailed description of SARE_LNE10-300_ProjectMethods
Project resources
Learn more about our 3 project videos:
Got Worms?  Improving Small Ruminant Parasite Control in New England
Why and How To Do FAMACHA© Scoring
Why and How To Do Sheep and Goat Fecal Egg Counts
View our fact sheets and tools on integrated parasite control

Project partners and contacts (May 2010 – October 2014)

University of Rhode Island – Project Coordinator
Katherine Petersson, Ph.D., Assistant Professor
USDA SARE Project Coordinator
401-874-291; kpetersson@uri.edu
Holly Burdett, Research Associate, URI Cooperative Extension
401-874-2249; hburdett@uri.edu
Virginia-Maryland Regional College of Veterinary Medicine; Virginia Tech
Anne Zajac, DVM, Ph.D., Parasitologist
540-231-7017; azajac@vt.edu
University of Connecticut
Joyce Meader, Dairy/Livestock Educator, UCONN Cooperative Extension System
860-774-9600; joyce.meader@uconn.edu
University of Massachusetts
Mark Huyler, Ph.D., Lecturer
413-545-2344; mhuyler@vasci.umass.edu
University of Vermont
Joe Emenheiser, UVM Extension
802-524-6501 ext. 434; joe.emenheiser@uvm.edu
Research Partners
Marucci Center for Blueberry Cranberry Research – Rutgers University
Department Animal Science – University of Wisconsin-Madison
---
This material is based on funding from the Northeast Sustainable Agriculture Research and Education Program Project LNE10-300, which is supported by the National Institute of Food and Agriculture, U.S. Department of Agriculture.  This work is also based on funding from the Rhode Island Agricultural Experiment Station (RI00H-900-INT).