September 24, 2021
Welcome to the nineteenth in our continuing series: GSO Profiles! Each post will feature a brief interview with a member of the GSO community. For now, we are featuring GSO students who graduated over the past year. These profiles are one way we can celebrate the accomplishments of those graduating in this unusual time of COVID-19, and also welcome them to the ranks of GSO alums.
In May, Sam Katz received his Master of Science degree, and his major professor was GSO professor Rainer Lohmann. Sam was intrigued by the idea of using passive samplers and designed his own for his M.S. research. He liked this research so much that he is staying on at GSO with Lohmann for his Ph.D. His research got off to an ominous start collecting open ocean samples while COVID was breaking out. But being on a ship in the middle of the Atlantic Ocean turned out to be one of the safest places to be at that time!
Here's Sam in his own words:
GSOP: Tell us about your work/research at GSO: what question(s) are you trying to answer?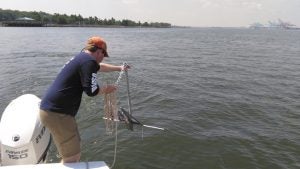 SK: I was working to understand what type of organic pollutants are in Newark Bay, NJ and how are they distributed. I developed a new sampling device that used passive samplers to measure the organic pollutants (i.e. pesticides and flame retardants) in the sediment porewater. I worked in New Jersey because it was a grant involving their Superfund site, it was through an agency which was part of the Department of Defense.
GSOP: What led you to your studies/career in ocean science?
SK: I grew up in coastal Maine, and after my undergraduate degree I landed a job as a Research Technician working for Christoph Aeppli at the Bigelow Laboratory for Ocean Sciences in East Boothbay, Maine.
GSOP: What brought you to GSO?
SK: At Bigelow Lab, my job before coming to GSO, our lab's postdoc, Deedar Nabi, was working with passive samplers as a way of detecting petroleum compounds in seawater. I thought this was a cool new field and wanted to learn more. Rainer Lohmann has been working with passive samplers for over 10 years, so it was an easy decision to come to GSO.
GSOP: How have the COVID precautions affected you?
SK: I was on the Endeavor research cruise that left port in February 2020 before COVID was even being talked about. All the science went on as normal while crossing the Atlantic and back. But when we arrived in Cape Verde on Friday March 13, we found that all flights home had been cancelled, so the scientists and crew stayed on the ship and returned to Narragansett that way. (Read more about this cruise.) I needed to stay on the ship anyhow to prepare our samples so that didn't affect my plans. We fulfilled our 14-day quarantine period on board, so we were able to leave the ship when she arrived at the GSO pier. Back on shore, it was kind of nice as I had the whole lab to myself to finish up the last set of samples.
GSOP: What was it like defending your thesis virtually?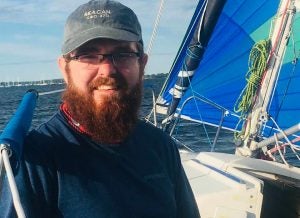 It wasn't too bad defending virtually; the hardest part was presenting without any of that non-verbal feedback you learn to play off of while presenting in person.
GSOP: What do you do for fun?
SK: In the summer I enjoy sailing and also going for hikes in the mountains (usually up in Maine and New Hampshire) and skiing in the winter. Also I enjoy exploring all the tasty food and drink places around wherever I am.
GSOP: What is your favorite spot or view at GSO?
SK: It's hard to choose one. The typical answer would be somewhere overlooking the bay, but I also really enjoy the community garden.
GSOP: Since you have had some time since your defense, what have you been doing since you finished your degree?
SK: I've transition right into working on my Ph.D., but I was able to take a week off in May to help sail a boat up from Florida.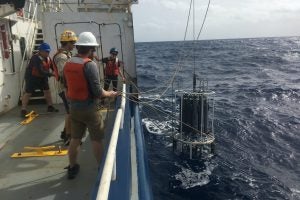 GSOP: What are you planning to do next?
I'm staying on here at GSO to get my Ph.D. looking at a soot deposition across the equatorial Atlantic. On my Endeavor cruise in spring 2020, we left Bridgetown, Barbados and crossed the Atlantic looking for particulate black carbon dust in the sediment as part of my Ph.D. research. It was a busy 3 weeks collecting surface sediment cores and water samples from 14 sites in the equatorial Atlantic. We used an MC-800 multicorer to get the top 40cm of sediment and also used a CTD (conductivity, temperature and depth sampler) to collect water from as deep as 4100m.