Arnaldo Díaz-Martínez, 2022 visiting scholar, studies phytoplankton in Narragansett Bay
Sept. 16, 2022
Plankton — examined daily under Arnaldo Díaz-Martínez's microscope this summer — are known, even named, for their lack of self-propulsion. Unlike his subject of study, however, Díaz-Martínez is all about forward motion and direction, whether at the center of the baseball field for the University of Puerto Rico Bulldogs or making his way to the University of Rhode Island to further his budding career in ocean science.
Díaz-Martínez was one of several students who came to the Graduate School of Oceanography at URI's Narragansett Bay Campus as one of this year's Summer Undergraduate Research Fellowships in Oceanography students. SURFO is a 10-week research experience primarily for undergraduate science, math and engineering students who have just completed their junior year. They get hands-on experience with laboratory work, field work, data analysis, instrument development, and numerical modeling — all while working with Graduate School of Oceanography faculty and graduate student mentors; the program is supported by the National Science Foundation.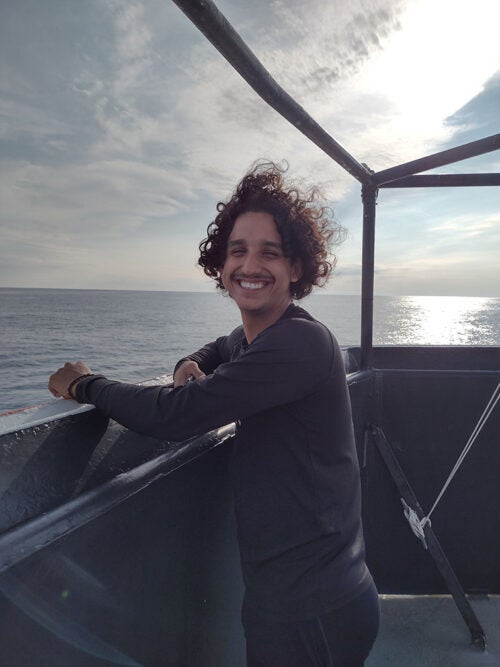 With his upbeat demeanor and an energetic attitude, Díaz-Martínez immediately made a strong impression on the team in Susanne Menden-Deuer's lab at URI's GSO, joining her and M.S. student Andria Miller to study Narragansett Bay's plankton population and dynamics.
Díaz-Martínez joined an active research project working on the base of the marine food web in the bay. As coastal ecosystems are increasingly affected by human activities, Díaz-Martínez's research played a critical role. Though not readily visible to the human eye (many are less than the diameter of a human hair), microscopic phytoplankton provide large environmental benefits, producing oxygen, absorbing carbon dioxide, and providing a critical food group for ocean fish. In addition to examining these microscopic creatures, Díaz-Martínez gained significant exposure to work in the field of oceanography, joining cutting-edge ecology research and getting to experience field and laboratory work, including joining a five-day research cruise on the Endeavor. He fully embraced that opportunity — even the 6 p.m. to 6 a.m. night shift.
Despite Díaz-Martínez's initial interest in sharks, he grew to like phytoplankton and their importance to climate change; his mentor Miller was happy to see this. She said his project helped identify how phytoplankton community growth is affected by micronutrient (trace metal) depletion or surplus in Narragansett Bay. Although his results indicated that the communities did not need the addition of trace metals, he helped identify how much grazing by microzooplankton took place during the summer and was helpful in improving data collection and methods practiced during the program, according to Miller.
With such a can-do attitude, the lab really enjoyed having him with them this past summer, and his engaged and positive demeanor. Menden-Deuer said, "Arnaldo has only been gone a week but is already missed." She also notes his leadership in the lab, saying, "We learned a lot from Arnaldo, not just the other way around."
Miller mentored Díaz-Martínez on a day-to-day basis and says he made her first mentoring experience a positive one. "As a student and researcher, Arnoldo brought such enthusiasm every step of the way while completing his research here," she said. "The SURFO program allows students to explore careers and research in an interdisciplinary field such as oceanography. This is beneficial for students like Arnaldo and me (a 2020 SURFO intern) because we can explain these fields and opportunities to our communities who know little to nothing about oceanography and its importance.
Island life
Díaz-Martínez hails from Dorado, on the northern coast of Puerto Rico, and has been exploring the ocean's edge virtually all his life. When not at the beach, he can often be found on a baseball diamond; he even brought his glove to Rhode Island, well broken in from his time pitching for the University of Puerto Rico in Mayagüez.
Although baseball is a great stress reliever and pastime, he is focused on academics. Studying and working on a community nonprofit has kept him plenty busy. When not busy at school or practice, you can find him cleaning local baseball fields, basketball courts and parks, or running movie and taco nights for the local community. He also volunteers with coral nurseries on the island, diving and transplanting coral on a local reef, and is currently working on his freediving certification.
"I was always in the water and on the beach growing up," he said — though that love for the water didn't necessarily translate to New England. "The water is too cold for me here!" he said, shivering slightly while watching swimmers duck into the waves at the Narragansett Bay Campus beach.
Living on an island surrounded by water, it was only natural to look to the water for play, recreation and ultimately, a career.
Plankton weeks
Díaz-Martínez admits that early exposure to "Shark Week" on TV piqued his early interest in marine sciences. "I've always been interested in the ocean, snorkeling and diving, and 'Shark Week' just added to that," he said.
They may not have the marquee appeal of sharks, but he found plankton just as intriguing this summer and hopes to explore these tiny organisms more in the future. This summer, Díaz-Martínez specifically studied how seasonal changes in Narragansett Bay affect nutrient availability and how this then affects growth and grazing of phytoplankton and microzooplankton. He studied how much phytoplankton are eaten by their predators, microzooplankton, in our local estuary and studied nutrient limitations as well.
With this experience, Díaz-Martínez plans to go on to graduate school for his master's degree in marine biology and bring his research home to Puerto Rico, continuing to work there with organizations such as Sociedad Ambiente Marino.
Outside of the research, he appreciated the mentoring support and networking opportunities found at URI and said the Bay Campus was a welcoming community to join. He appreciated the interactions with other students in the lab, the experience he gained in professional research writing, and the welcome and diversity he found at the Bay Campus. He calls his SURFO experience a positive one and said the lab was like home, with an accepting, kind and supportive atmosphere.
Díaz-Martínez hopes to see still more diversity on the Bay Campus and in the field of oceanography. "The community is growing and getting better but there's still a long way to go," he says.
To others considering applying for SURFO, including students of color, he says, "Go for it. The 20s are a time in your life when you can find your drive and pick your career path. I'd say don't limit yourself."
"The STEM field is growing and becoming more diverse. Students who are thinking about something like this should go for it. Don't doubt yourself. You need to put yourself and your dreams first. Look for the opportunities, think about your future and just keep going." His mentor Susanne Menden-Deuer could not agree more.
Learn more about the SURFO program.