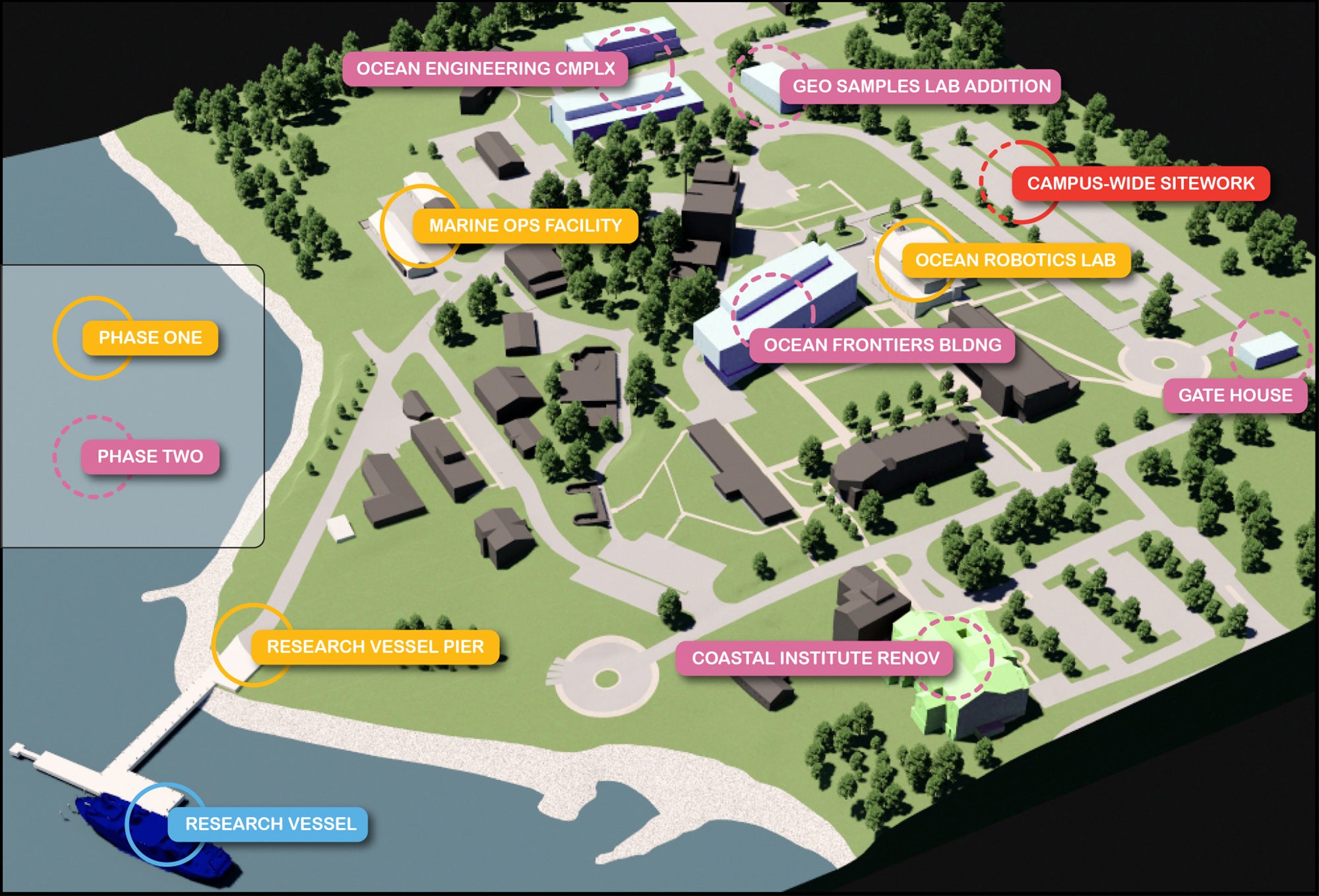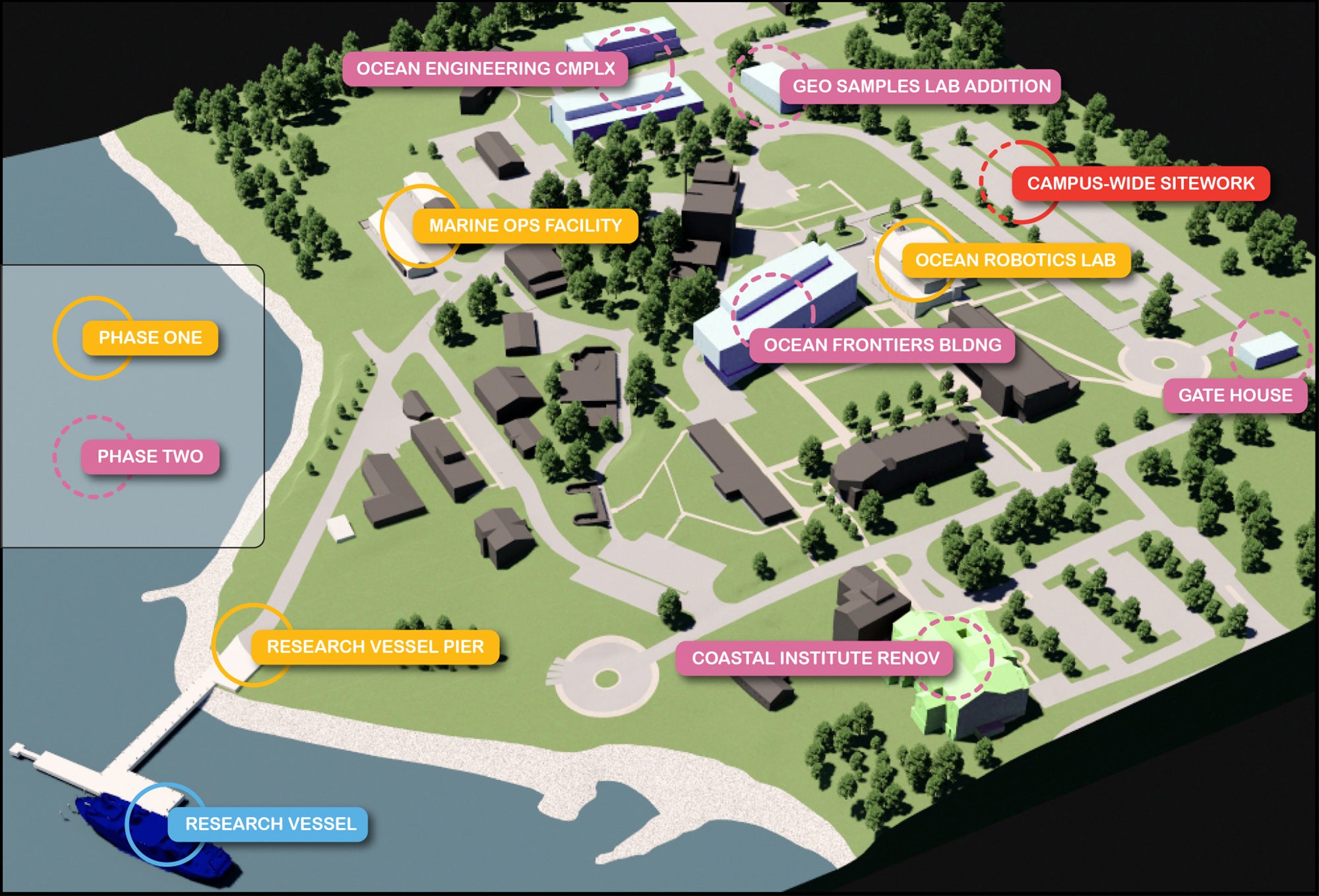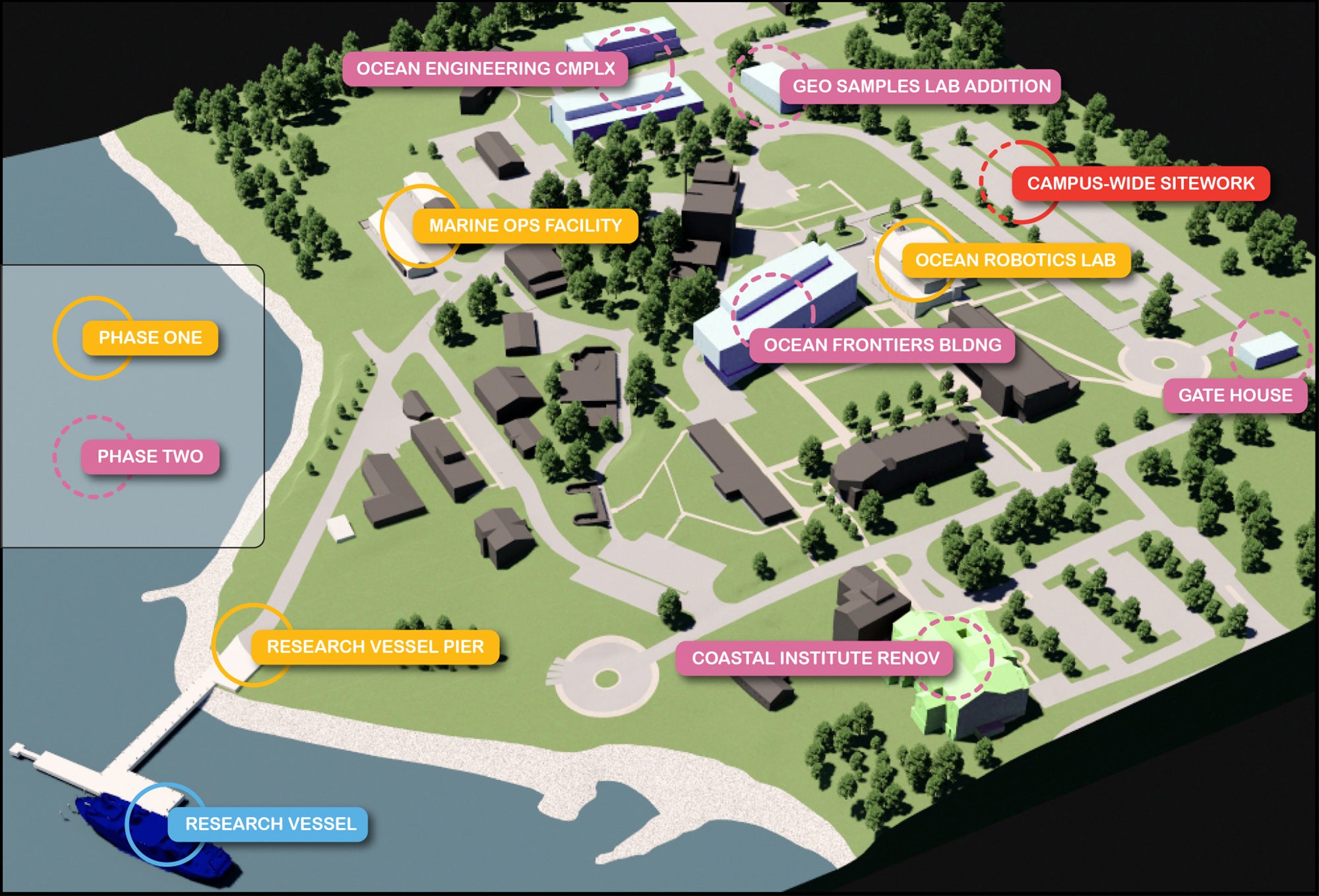 Click or tap a label to load a page about that phase or project.
---
"We are preparing a climate-literate workforce—the next generation of oceanographers and ocean engineers who will lead advancements in ocean science."
Dr. Paula S. Bontempi, Dean, Graduate School of Oceanography
Thinking Big, and Long-Term
The University of Rhode Island's Narragansett Bay Campus is about to undergo a dramatic transformation that will modernize its facilities and enable it to build upon its global reputation for oceanographic research and education. Thanks to the support of Rhode Island voters, who approved a $45-million bond referendum in 2018, phase-one construction will begin later this year.
"As international leaders in understanding the world's oceans, we are preparing the next generation of oceanographers and ocean engineers to be at the forefront of the advancements in ocean science," said Paula Bontempi, dean of the URI Graduate School of Oceanography. "To continue this important work, we need the proper facilities that will allow our faculty and students to make lasting contributions that we can share with the world."
An exhaustive master planning process identified numerous strategies for upgrading or replacing existing campus facilities to accommodate the needs of modern research technologies, enabling oceanography and ocean engineering faculty and students to push the boundaries of ocean exploration and discovery. The upgrades will also service the requirements of a new research vessel and improve conditions for personnel throughout the campus.
"The Bay Campus is more than 60 years old, and it has evolved opportunistically, with buildings erected where they were most convenient as they were needed. There was no master plan back then," said David Palazzetti, director of facilities and operations for the campus. "By creating a campus master plan, we were able to determine what makes the most sense for the operation of a world-class oceanographic research institution."
Palazzetti said that when the dust has settled, the Bay Campus will look quite different than it does today, largely because it will be more pedestrian-friendly, like a typical campus.
"By creating a campus master plan, we were able to determine what makes the most sense for the operation of a world-class oceanographic research institution."
David Palazzetti, Director of Facilities and Operations
---