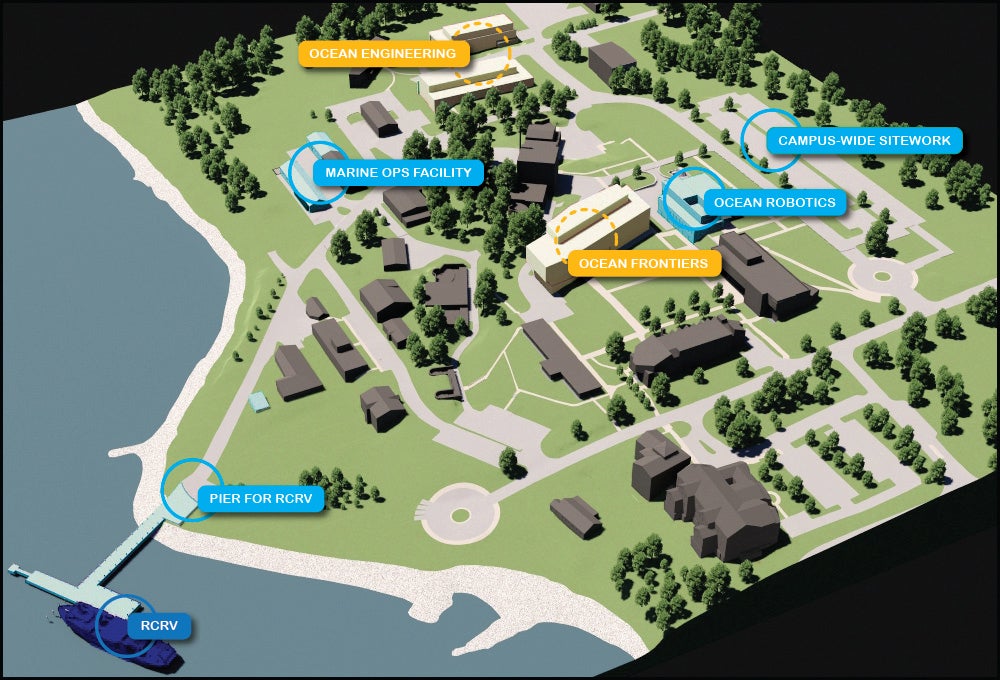 Please use a wider display to see graphical areamap selection.
Please use a wider display to see graphical areamap selection.
Click or tap a label to learn more about that project.
Sitework

Transformation of campus features and contours throughout the Campus Renewal process will yield a new level of efficiency and accessibility, and create a more campus-like environment.

Learn more about campus-wide sitework.
Ocean Robotics
The future of ocean exploration, research and enterprise lies in rapid development and deployment of sophisticated systems. Construction is imminent for a building in which technologically-driven solutions can be designed and developed.
Learn more about the ocean robotics laboratory.
Pier
The pier at the Narragansett Bay Campus provides support services to research vessels and full access to Narragansett Bay. The original wooden pier, built in 1963, had more than exceeded its designed service life and was unable to accommodate the new, 199-foot-long R/V Narragansett Dawn, which is due to arrive in 2024. This project demolished the original pier and erected a larger, more capable, steel-and-concrete pier in its place.
Learn more about the research vessel pier.
Vessel
GSO's next-generation RCRV, Narragansett Dawn, will bring new technologies, greater capabilities, and course-altering discoveries.
Learn more about the advent of Regional Class Research Vessel Narragansett Dawn.
Marine Operations
A new marine operations facility will have the capacity to support R/V Narragansett Dawn, which arrives in 2024. "Marine Operations" provides logistical support for seagoing expeditions, including administrative services and provisioning of food, scientific equipment and supplies. URI's Diving Safety and Research Program provides training to entry level, professional and scientific divers in tropical and temperate diving environments. Two new structures will house these functions, be closer to the pier and are designed to add about 11,000 square feet of space.
Learn more about the marine operations facility.
Looking ahead
The priorities and costs of projects on the drawing board remain under consideration.
Learn more about the Bay Campus projects in development.
---
"We are preparing a climate-literate workforce—the next generation of oceanographers and ocean engineers who will lead advancements in ocean science."
Dr. Paula S. Bontempi, Dean, Graduate School of Oceanography
Thinking Big, and Long-Term
The University of Rhode Island's Narragansett Bay Campus has begun a multi-year series of infrastructure improvements that will modernize its facilities and enable it to build upon its global reputation for oceanographic research and education. Much of the investment in this vision is derived from the generosity of R.I. taxpayers who, in two state-wide referendums, have approved more than $140 million in borrowing.
"As international leaders in understanding the world's oceans, we are preparing the next generation of oceanographers and ocean engineers to be at the forefront of the advancements in ocean science," said Paula Bontempi, dean of the URI Graduate School of Oceanography. "To continue this important work, we need the proper facilities that will allow our faculty and students to make lasting contributions that we can share with the world."
An exhaustive master planning process identified numerous strategies for upgrading or replacing existing campus facilities to accommodate the needs of modern research technologies, enabling oceanography and ocean engineering faculty and students to push the boundaries of ocean exploration and discovery. The upgrades will also service the requirements of a new research vessel and improve conditions for personnel throughout the campus.
"The Bay Campus is more than 60 years old, and it has evolved opportunistically, with buildings erected where they were most convenient as they were needed. There was no master plan back then," said David Palazzetti, director of facilities and operations for the campus. "By creating a campus master plan, we were able to determine what makes the most sense for the operation of a world-class oceanographic research institution."
Palazzetti said that when the dust has settled, the Bay Campus will look quite different than it does today, largely because it will be more pedestrian-friendly, like a typical campus.
"By creating a campus master plan, we were able to determine what makes the most sense for the operation of a world-class oceanographic research institution."
David Palazzetti, Director of Facilities and Operations
---