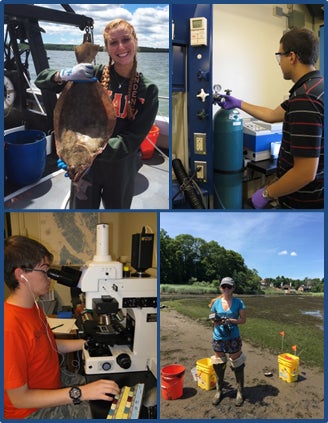 About SURFO
The Summer Undergraduate Research Fellowships in Oceanography (SURFO) program is a 10-week research experience designed primarily for science, math and engineering students who will have just completed their junior year of undergraduate coursework. Students from ancillary disciplines or with fewer years of college coursework are welcome to apply. The program can include laboratory work, field work, data analysis, instrument development, numerical modeling, even a research cruise. Watch the video below highlighting SURFO students from previous years.
Summer Fellows may be involved in projects related to:
Physical, Biological, Chemical, or Geological Oceanography
Geophysics/Geodynamics
Population Genetics / Biodiversity
Geobiology
Atmospheric Chemistry/Meteorology
Remote Sensing/Ocean Engineering
Our program emphasizes the quantitative aspects of Oceanography, so many student projects involve fluid dynamics, marine geophysics, or numerical/physical modeling. We also encourage process-oriented interdisciplinary research projects that take full advantage of the expertise at the Graduate School of Oceanography, the Department of Ocean Engineering, Main Campus Marine Science Programs, and co-located governmental and non-governmental laboratories.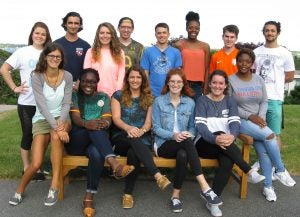 Participant Selection
Citizenship. The SURFO program is limited to U.S. citizens or international students who are permanent residents of the U.S. or U.S. possessions.
Academic Standing. All undergraduate students are welcome to apply, but the SURFO program primarily targets students completing their junior year. In the past, SURFO has also accepted talented students completing their sophomore year, or seniors who will be graduating after the fall semester.
Criteria. The selection of SURFO participants is based upon:
– academic achievement in the basic sciences, math, or engineering
– possible career interest in oceanography or ocean engineering
– research potential
– ability to articulate, in writing, reasons for applicant's interest in the SURFO program
– recommendations from undergraduate professors or research advisors.
Student Expectations
Over the course of the 10-week program, SURFO participants will evolve from a "rookie" in Oceanography to a full-fledged member of a research team.
Participants will be expected to:
review assigned scientific literature in preparation for research,
seek out additional literature while conducting research,
conduct an independent research project under the guidance of a PhD research advisor and a mentor, generally a graduate student,
present research results in a 15-minute professional talk,
summarize their research in the form of a written scientific peer reviewed manuscript or in the form of a proposal to the NSF Graduate Research Fellowship Program.
Mission Statement
We believe that exposure to basic research is a valuable component of an undergraduate education in science. We offer a select number of students the experience of working as part of a research group in developing problem-solving skills which may be applied in any career. More specifically, we want to share our enthusiasm for Oceanography with undergraduate students and make them aware that training in the basic sciences or engineering is both applicable and necessary for the complex challenges facing oceanographic research.
The three basic goals of the SURFO program are to provide participants with:
– an appreciation for the interdisciplinary character of Oceanography,
– an authentic research experience in a cutting-edge field of Oceanography,
– an introduction to the graduate student lifestyle in Oceanography.
History of SURFO
The Summer Undergraduate Research Fellowships in Oceanography (SURFO) Program began in 1985. Initial funding came from the Office of Naval Research (ONR). In 1994, support for the program switched to the National Science Foundation (NSF) when SURFO was designated a Research Experience for Undergraduates (Site-REU) program. SURFO has grown to be an important part of GSO's research and educational endeavors. Whereas GSO's primary mission has been graduate education and research, the faculty, graduate students and staff have developed an enthusiasm for the multiple interactions with the undergraduate fellows and the fresh perspective and energy they bring to campus.