Lohmann measuring exposure to pollutants on the Faroe Islands
August 3, 2022
The Faroe Islands have welcomed travelers to their shores for centuries. In the last century, however, islanders have had to contend with the impact of one unwelcome guest: PFAS contaminants, or "forever chemicals," as they are sometimes called.
Given that the islands are only about half the size of Rhode Island, in the midst of the vast North Atlantic, the islanders possess a unique connection to the sea and what it brings them. Now, the islands' unique geography is making for a fertile offshore research lab for University of Rhode Island Professor of Oceanography Rainer Lohmann. Lohmann is recipient of a prestigious Fulbright Arctic Initiative Award, enabling him to conduct research in the Faroes. He started his research in June 2021, joining other Arctic Scholars as part of the Fulbright Arctic Initiative III, with participants from the United States, Canada, Denmark, Iceland, Sweden, Norway, Finland and Russia. They will present as a group in Washington, D.C. in April 2023.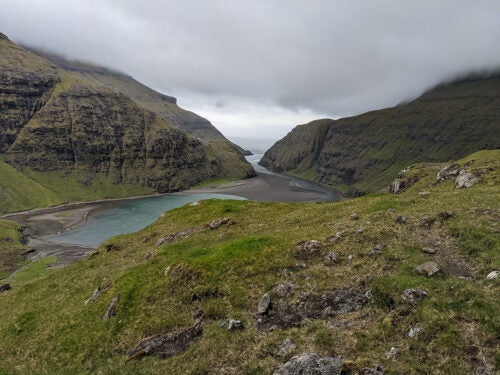 On the Faroe Islands, Lohmann set out to better understand the full exposure of the local population to PFAS contaminants (per- and polyfluorinated contaminants), the focus of his work at URI's STEEP Center (Sources, Transport, Exposure & Effects of PFAS).
Perhaps because of their close connection to the surrounding sea, and this environmental challenge in it, the Faroe Islanders were more than willing to contribute to Lohmann's research. "Islands always have their own rhythm, and the Faroe Islands are no exception," he says.
Life there is still shaped by the rhythm of ferry rides and the force of the elements, although today tunnels connect many of the 18 Islands. Lohmann was surprised by the degree of interest in his study. After first emailing the islanders, he was hoping to receive perhaps 50 to 100 responses. "In the end, we had to resort to a first-come basis, as almost everybody was willing to participate, but we had only 50 sampling kits available."
Prior study of PFAS uptake by the Faroese has highlighted the importance of eating whales and seafood in their sea-heavy diet. Unfortunately, that seafood consumption has also brought with it exposure to some of the most immunotoxic environmental contaminants known. PFAS have been produced for over 60 years, but it is only in the last two decades that their risk to human health has been recognized. High exposure can lead to a number of adverse human health effects including a weakened immune system, kidney cancer, thyroid disease and metabolic impacts linked to diabetes and obesity.
In the Faroes, Lohmann wanted to investigate additional pathways to contamination, such as through indoor air, dust and drinking water. Working with a local host, Lohmann obtained samples from 40 Faroe homes; results are pending.
This research builds on prior University research in the Faroe Islands. As part of URI's STEEP Superfund Research Center, the University has an ongoing connection to birth cohort studies on the Faroes, focusing on the connection between eating seafood/whales and elevated concentrations of pollutants: mercury, PCBs (polychlorinated biphenyls) and PFAS.
Lohmann came to his work in oceanography by way of a career as an environmental chemist; the frightening features of PFAS are the very things that piqued his interest.
"PFAS represent some of the worst features in chemicals," Lohmann says, "being extremely persistent, prone to long-range transport (hence a global problem) and accumulating toxicity in animals and humans."
As PFAS are water-soluble, the oceans form their primary sinks and reservoirs. "This is a terrific and terrible combination," he says, "which sparked my interest. But on the policy side, PFAS are still being produced as we speak, so research can make a difference."
Lohmann's research group in the Graduate School of Oceanography is now busy studying the Faroese results, looking into the transport and accumulation of black carbon particles in the tropical Atlantic, testing and validating sampling tools for PFAS and other pollutants in water and air, and studying the bioaccumulation of PFAS in plankton, fish and birds.
This Fulbright Arctic Initiative is another step in a career of global research on PFAS for Lohmann. Since 2017, he has led the Superfund Research Center at URI, one of about 20 nationwide and has also collaborated with other scientists at the U.S. Environmental Protection Agency, Environment Canada, and across Europe to influence decision-making policy and better regulation in this area. He is on the Executive Committee of EPA's Board of Scientific Counselors and a member of the Global PFAS Science Panel, working toward the phase-out of these harmful chemicals still being produced in large volumes. He also co-leads an initiative of a global monitoring program for organic pollutants in the waters of the world. In addition to Lohmann's research at URI's Bay Campus, he teaches courses on marine chemistry and the University's popular Introduction to Marine Pollution.
The Fulbright Program is the U.S. government's flagship program of international educational and cultural exchange, offering students and scholars the opportunity to study, teach, research and contribute to mutual understanding in more than 160 countries. Learn more about URI's Fulbright programs and scholars.