Hi Fruit Growers,
I know this hot weather is pushing fruit trees and berries too far too fast. It's scary! Looking at the extended forecast, no frost is predicted at this time.
I hope to visit some apple and blueberry farms over the next week to check flower buds for winter moth caterpillars. We haven't seen many winter moth caterpillars the last several years, but last year there was more forest defoliation from winter moths. See the DEM map made from an aerial flight in mid-June, 2022.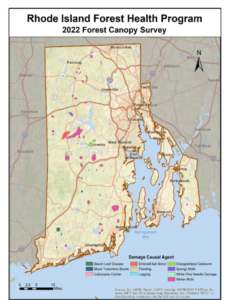 The pink areas are believed to have been defoliated by winter moth caterpillars in 2022. There could be high numbers of winter moth caterpillars in those areas again this year.
In URI's apple and blueberry plants, there are many winter moth caterpillars. Nearly 100% of apple flower bud clusters have winter moth caterpillars. 16% of URI's blueberry buds have winter moth caterpillars.
Please check your apple, pear, and blueberry flower buds for winter moth caterpillars over the next week. If you find 5% of buds with the small caterpillars (or you see frass – insect poop) consider applying an insecticide. You may be able to see the frass without peeling open the buds, or you may need to pry open the buds to see the frass or caterpillars. I think all insecticides labeled for apples and blueberries are effective at controlling winter moth caterpillars. Bt insecticides such as Dipel are also effective and are the only insecticides that can be used during bloom.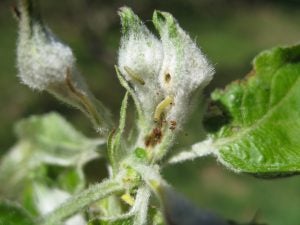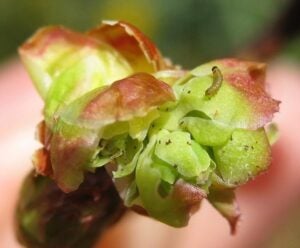 I hope most apple trees will be well protected with a fungicide going into the weekend. I expect we will have a significant apple scab infection period.
See you Wednesday at 6:30 at
Jaswell's
for our April Twilight Meeting!
Heather