With the warm/hot weather this week, I expect all winter moth eggs to have hatched by now. I had very few eggs to monitor for winter moth egg hatch this spring. That's a good thing! I set up three tree bands in November – one tree in Kingston and two trees in Charlestown. Usually, this number of tree bands provides hundreds of eggs to watch hatch and this year I had three eggs.
I didn't expect to find many winter moth caterpillars at URI's East Farm orchard, since there were so few eggs one mile away at the egg monitoring tree. Wrong! With the help from URI students taking an IPM (integrated pest management) class, we found 16% of the blueberry buds with winter moth caterpillars, and nearly 100% of the apple buds with winter moth caterpillars! Some of the apple flower bud clusters had as many as 4 winter moth caterpillars.
Now and over the next 2 weeks is a good time to check your blueberry and apple buds for winter moth caterpillars. I don't expect most of you will need to spray for winter moth caterpillars, but I suggest you peel open buds to find out! Caterpillar frass (insect poop) is easier to find than actual caterpillars. It's very helpful to use a magnifying glass to see caterpillars or frass.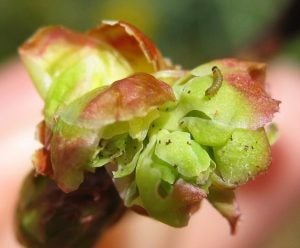 We don't have a good threshold to indicate the need to spray apples, pears, or blueberries for winter moths. Some Nova Scotian guides recommend spraying apple trees when 1-2 caterpillars are found in 20 buds (>5% infested buds).
A good time to spray for winter moths is from tight cluster to bud separation–when the flower buds start separating from the cluster, but before blossoms open. So right now is a good time to check buds. If you find more than 5% of buds with caterpillars or frass you may want to apply an insecticide.
All common insecticides labeled for apples and blueberries control winter moth caterpillars well. Bt insecticides (such as Dipel) are also effective. Bt insecticides kill only caterpillars, so don't harm bees and other insects.
Heather Faubert
URI Cooperative Extension
hfaubert@uri.edu